After the wait, you can now get Outriders on every major gaming platform. The game was supposed to release on February 2, however, it was delayed as the developer needed more time for some final tweaking. If you can't play the game in your region, then wait for a few hours. This is because the developer scheduled the unlock times in different regions, which you can check here.
The developer also released the updated PC system requirements, and they are a little different from the initial specs. The minimum requirements remain the same but for recommended high-preset settings, you now need GTX 1070 or RX Vega 56, both must be an 8 GB variant.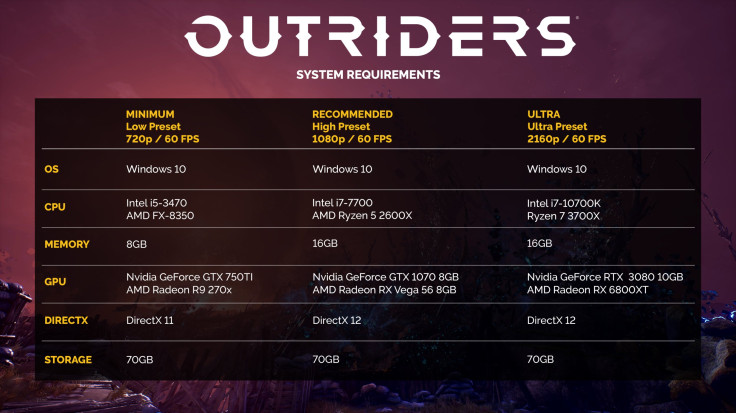 Additionally, the specs revealed finally showed the requirements for Ultra preset settings, which is 4K at 60 FPS. You will need either Intel i7-10700k or Ryzen 7 3700X paired with either RTX 3080 or Radeon RX 6800XT. To support these chips, your machine must have at least 16 GB of RAM.
So, most probably you won't be playing the game in all its glory unless you are one of the few who own these high-end chips.
Ultra Present 4K at 60FPS:
OS: Windows 10
CPU: Intel i7-10700K or Ryzen 7 3700X
Memory: 16 GB
GPU: Nvidia GeForce RTX 3080 10 GB or AMD Radeon RX 6800XT
DirectX: DirectX 12
Storage: 70 GB
Outriders for PC is the best version to play to date. It comes with several PC exclusives features like Nvidia DLSS, Ansel support, ultra-wide support, and FOV slider. The game has already attracted a decent fanbase with the beta version played by over two million players. We will know later how many of those will actually purchase the game.
Outriders is available on PC, Xbox One, Xbox Series X|S, PlayStation 4, PlayStation 5, Stadia, and you can purchase it for $60.
So what do you think? Are you excited about Outriders? Did you play the open beta before? Have you purchased your copy yet? Let us know your thoughts in the comments section below.