It looks like Fortnite developer Epic Games is not letting up on its fight against Apple. Epic has filed a suit against Apple in California. The suit alleges that Apple was being unreasonable and unlawful, as well as anti-competitive, with its policies on the iOS App Store.
So, how did this all start? That's the interesting part. Epic introduced an update to Fortnite which included the game's very own payment system, effectively bypassing the platform fees on both Google Play and the App Store.
The reason was that Epic was offering players a 20% discount on V-Bucks and real-money purchases. This was not a problem for the PC and consoles versions. However, for the mobile platform the developer offered what was known as Epic direct payment. You can read more about that here.
This resulted in Apple blocking Fortnite from the App Store. That means installing and updating the game is no longer possible on iOS devices. In addition to the lawsuit, Epic took it a step further and came out with an in-game animated short that parodied Apple's infamous 1984 commercial along with highlighting the #FreeFortnite campaign. You can watch video below:
Before we take a closer look into the lawsuit, did Google take Epic's action sitting action? Well, Fortnite has also been pulled from Google Play. However, the game can still be played on Android devices by downloading it through third-party storefronts like Epic's very own launcher. According to a report from The Verge, Google issued a statement declaring that the open Android ecosystem has always allowed developers to be able to distribute their app though multiple app stores. However, the Play Store does have a policy that says it must approve updates to make sure things are safe for users. Thus, while the game is still on Android, Google could "no longer make it available on Play because it violates our policies."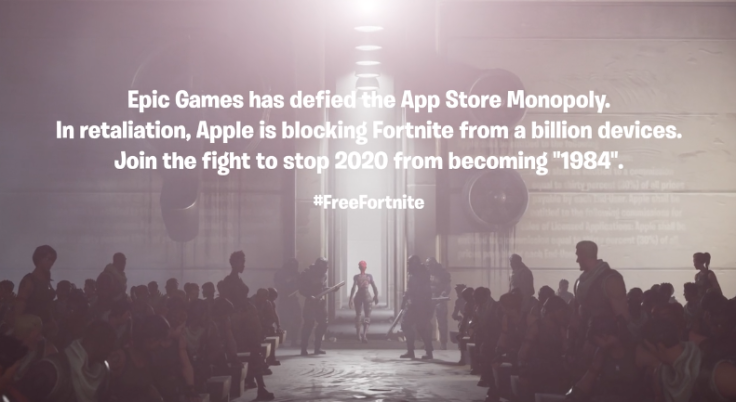 Going back to the issue at hand, Epic said that it filed the suit as a way "to end Apple's unfair and anti-competitive actions that Apple undertakes to unlawfully maintain its monopoly" on the iOS platform, which includes the distribution and payment processing markets. Epic went on to say that it's not looking for any monetary compensation nor even seeking favorable treatment for itself, but is looking for "injunctive relief to allow fair competition in these two key markets that directly affect millions of consumers and tens of thousands, if not more, of third-party app developers."
You can read more about the case here.
While there are those who say that Epic is taking up the cudgels for other developers, it's also pretty much doing what Apple is through the Epic store. What is going to be interesting, though, is how things are going to unfold and what the impact will be for mobile games.
What about you? Do you think Epic Games did right or did it go too far? Let us know your thoughts in the comments section below.