During Square Enix's E3 2017 recap Active Time Report live stream, Final Fantasy XV director Hajime Tabata and marketing manager Akio Ofuji told viewers to expect some big announcements during Gamescom -- Europe's equivalent of E3 -- at the end of August.
One fan (u/stjh) on the FFXV subreddit put together a handy on-the fly translation of the event, revealing Tabata and Ofuji were both determined to put on a strong showing at this year's industry event in Germany after underwhelming fans the past two years.
But what could they have up their sleeves? A Master Chef: Ignis VR experience? A holiday-themed Moogle Chocobo Carnival? Probably not, but we wouldn't mind either of those. But it seems more likely one of two things -- hell, maybe both -- are in the works for FFXV fans.
The most obvious possibility is the official announcement of a Final Fantasy XIV event featuring the cast of FFXV. Player.One spoke to Final Fantasy XIV director Naoki Yoshida at E3, where he gave a surprisingly candid response when asked about the possibility of a chocobro crossover: "There have been discussions with the FFXV team, and we're getting into the more granular details, so we're hoping that we can be able to make an announcement for what we are actually doing in the near future."
Near future, huh? The end of August fits nicely into that timeframe, and it's clear from Yoshida's words that the teams have gotten quite far along in their discussions. It seems less a matter of if the crossover will happen, and more a matter of what it will involve and when fans can expect to play it.
This upcoming August announcement could also have something to do with survey Square Enix recently added to the game, asking players about the additional content they'd most like to see added to the game. The survey included several options for story expansions and additional playable characters. (We picked the World of Ruin story content, but there were some other quite tempting ones on the list!)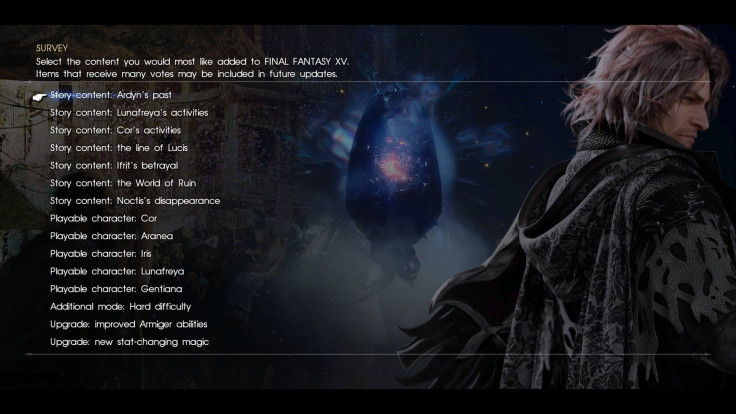 However, we're less convinced that the survey results will figure prominently in the Gamescom announcement, because the aforementioned translation of the Active Time Event on the FFXV subreddit mentions the results will be announced at an event in Osaka on July 1. Perhaps Tabata will offer a more fleshed-out description of the survey-winning addition to FFXV at Gamescom, but this wouldn't really be a major reveal by the time August rolls around, just further information on something fans already knew was coming.
We'll find out when Gamescom takes place in Cologne, Germany from Aug. 22 to Aug. 26. What big news are you hoping to see from the Final Fantasy XV team? Let us know your wishlist in the comments!
Combat, Plot, Characters Create Something Flawed, Beautiful, Fantastic
Despite it's flaws, Final Fantasy XV is a milestone achievement: not just for being completed, but for being completed with polish, aplomb and love.
Engaging main cast of characters
Fun, fast-paced combat
A massive, beautiful world to explore
The Regalia!
Continuous updates have addressed some shortcomings of the initial release
Major aspects of the story feel rushed or absent, particularly toward the end of the game
Stealth sequences feel out of place