The Polaris RZR, the lightweight buggy that you can ride with a buddy, is now available in Battlefield 2042 as an in-world vehicle via the newly released Update 2.1.
This patch also introduces three iconic weapons from Battlefield 3 and Battlefield: Bad Company 2. The first is the P90 - a compact weapon from Battlefield 3 that packs a punch, thanks to its 5.7 x 28mm armor-piercing bullets and 50-round magazine.
The second is the GOL Sniper Magnum, a German bolt action rifle famous for its amazing accuracy; perfect for killing enemies at great distances. And lastly, the M1911 is a classic 0.45 caliber sidearm equipped with a seven-round magazine specially made for the Allied Forces. Both of these weapons were staples in Battlefield: Bad Company 2.
So, what other things were implemented in Update 2.1? Well, some specialists in Battlefield 2042 received notable bug fixes. For instance, the issue where Boris' SG-36 Sentry Gun was occasionally able to shoot enemies through smoke has now been resolved.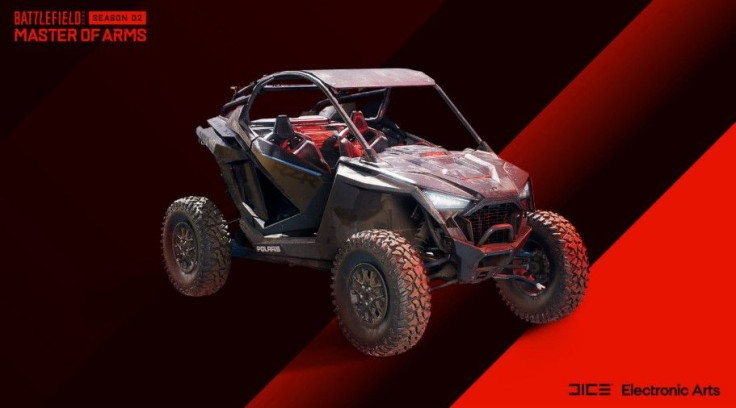 Here are the other changes:
GENERAL
Fixed an issue preventing the Weekly Missions list from being scrolled during End of Round

Collection: Fixed an issue where the wrong input icon is displayed when equipping vehicle customizations

Statistics: Fixed an issue that could cause the accuracy stat to reach a value above 100%

Fixed an alignment issue related to HUD notifications on widescreen monitors

Fixed a scaling issue related to HUD notifications

Fixes an issue that could cause a black screen after leaving a game that was close to the End of Round

Fixed an issue that could cause the Introduction Video to play when booting the title into fullscreen and directly pressing Alt + Enter to go into windowed mode

Resolved instances where visual artifacts could appear on screen while matchmaking into a new server on the Exodus Conquest playlist

Fixed instances where binding a secondary input to mouse buttons did not work

The sorting arrow is now pointed correctly for the Players section in the Battlefield Portal Browse tab
SPECIALISTS
Boris
Fixed an issue with the SG-36 Sentry Gun is floating after being deployed

Fixed an issue where the turret deploy sound is delayed when deploying SG-36 Sentry Gun with Boris
Casper
Fixed an issue where the OV-P Recon Drone flies in circles after getting pushed by another player

Fixed a bug where Slow vehicles could not destroy the OV-P Recon Drone by ramming it or running over it
Lis
Fixed an issue Audio hit cue/indicator triggered on Lis's rocket when hitting nothing

Fixed an issue G-84 TGM gets a hit marker but 0 damage is dealt to the enemy Soldier
Battlefield 2042 Update 2.1 is available on PS4, PS5, Xbox One, Xbox Series X/S, and PC.