Have you ever been surprised by a notification that tells you that your kid has just spent money on microtransactions? If so, then you are likely one of the many parents who are clamoring for a safety feature that would limit spending on game-related purchases.
Fortunately, the folks over at Microsoft have developed a new update for the Xbox Family Settings App, which helps prevent kids from wasting money on games and microtransactions on the Xbox ecosystem.
Spending Limit
The Xbox Family Settings App has been around for more than a year now, but the new update is likely to entice more parents and guardians to download and use it.
Three new features are added to the app. The first and likely the best feature is the new spending limit.
Instead of your child having all the power to get anything they want from their favorite games, you can add money to their account by using the application. This way, you will have control as to how much they can spend on in-game items, skins, bundles, DLCs, and so on.
The new spending limit is also a great way for you to reward your kid, especially if they've done well in school and you want to give them something in return for their efforts.
Ask to Buy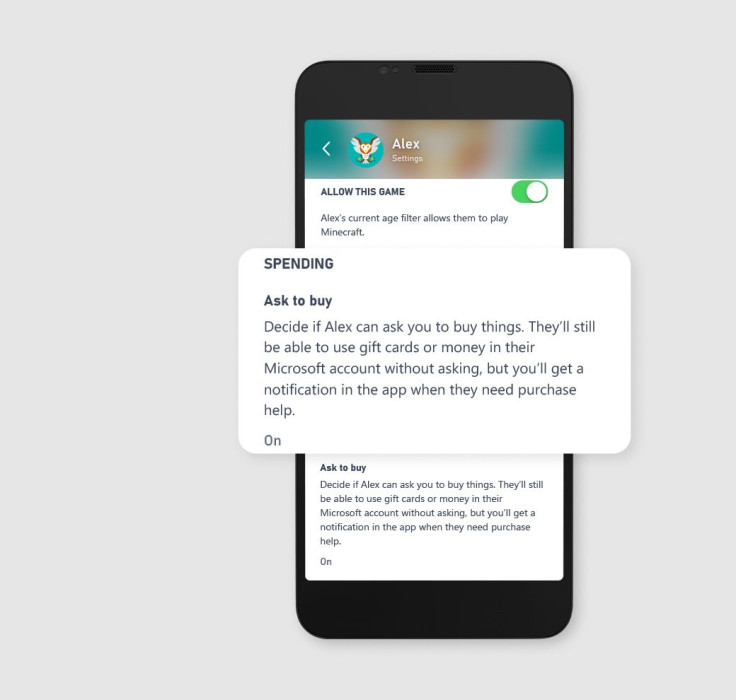 Whenever your child wants to buy something and there is no money left on their account, you will receive a notification that asks you if you want to add more funds or not.
If you choose to approve it, the app will either send sufficient money necessary to complete the sale or you can tell it to make that purchase on their behalf. Of course, you will have the option to deny the request as well.
Account Balance and Purchase History
The last feature gives you the power to view your children's account balance and purchase history. Everything is detailed in this section so you will know exactly what your kids have purchased over a certain period.
This will also prevent you from getting any unexpected bills or surprises since you know where the money was spent.
Other Notable Features
The features mentioned above are all welcome additions. However, they are not the only things that you can do with the app.
If you do not want your children to be exposed to content deemed inappropriate for their age, you have the option to set content filters. For instance, if you set the content rating to "Rated E," content not rated as such will be blocked from their access.
Also, if you do not want your kids to spend countless hours playing games, you may set some screen time limits. Perhaps giving them only two hours of playtime per day is enough, though you certainly have the option to add more.
For more information about the app's features, you may proceed to the official website.
So, what do you think of the new features of the Xbox Family Settings App?