Soulstone Survivors Winterfall Update is now available on Steam. This patch brings tons of new content, including new weapons and skills to help you vanquish hordes of enemies you're going to face.
In Soulstone Survivors, each weapon has two skills that you can utilize when you equip it. That said, there are a bunch of new weapons at your disposal in the Winterfall Update.
If you're not a fan of the Paladin, then the new Harbinger of Justice might entice you to use the said class. With this weapon, the Paladin can perform the new Hammer of Justice skill, in which he launches a hammer that pierces through a group of enemies and returns to him after the maximum range is reached.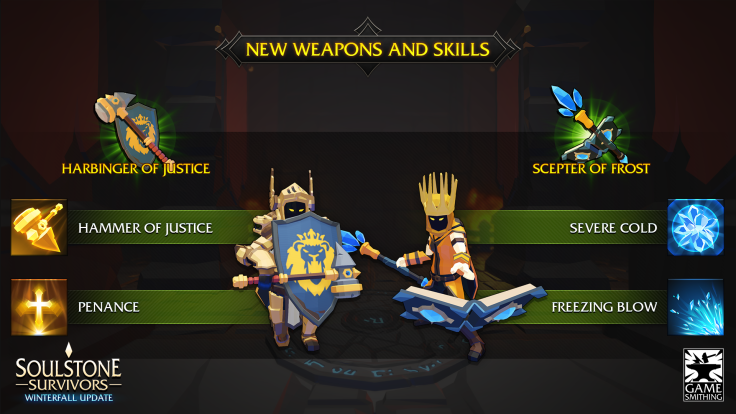 The Assassin also got a pretty useful weapon called the Curved Daggers. When this is equipped, the Assassin can perform the Twin Daggers skill, which summons two red spectral blades to attack foes in front of them and applies the Weakness debuff on targets.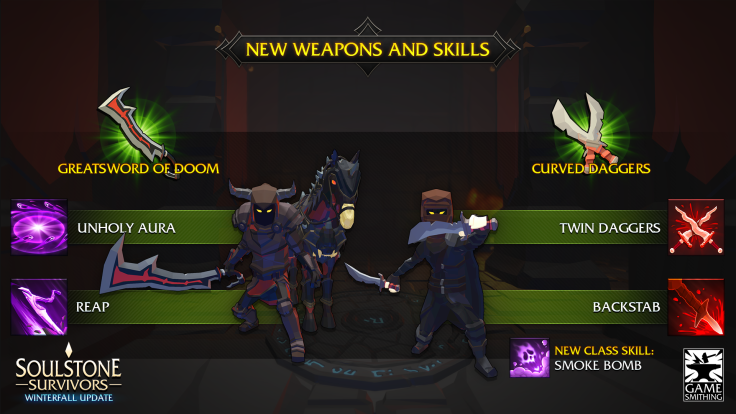 Patch Notes
New Craftable Weapons
Paladin: Harbinger of Justice

Chaoswalker: Artifact of Corruption

Assassin: Curved Daggers

Legionnaire: Jupiter's Reach

Beastmaster: Nature's Fury

Elementalist: Scepter of Frost

Necromancer: Life Harvester

Death Knight: Greatsword of Doom
New Active Skills
Paladin: Hammer of Justice, Penance

Assassin: Twin Daggers, Smoke Bomb

Death Knight: Unholy Aura, Reap

Necromancer: Unholy Bolt, Ancient Curse

Legionnaire: Jupiter's Spear, Summon Infantry

Beastmaster: Wild Strike, Summon Swamp Boar

Elementalist: Severe Cold, Freezing Blow

Chaoswalker: Seeking Chaos, Aura of Chaos
Rune Changes
Now you can also pick starting skills multiple times with Singular Focus

Starting skills can now be selected by other characters with the use of a Mastery rune

Fixed issue where Mastery runes sometimes would yield inconsistent results, often adding less than 6 skills to the pool

Mastery runes will not add the same skill twice if you have two masteries that would apply for the same skill, it will always try to add unique skills if possible
General Changes
Further performance improvements that might assist in certain scenarios

Bosses are now virtually immune to pushback effects to reduce some strange behavior that could happen in extreme scenarios

Hit special effects will play up until Endless cycle 2. Previously, they would not play in any Endless/Overlord level to improve performance
Enemy Changes
Corrupted Paladin

Templar's Verdict damage reduced from 25 to 20

Holy Fire charge time increased from 1.2 to 2 seconds

Holy Fire projectile spread reduced considerably

Holy Fire damage reduced from 15 to 8

Corrupted Death Knight

Obliterate charge time increased from 1.2 to 1.6 seconds

Shadow Spikes charge time increased from 1.2 to 1.6 seconds
So, what can you say about the new content added in Soulstone Survivors Winterfall Update?