Yesterday, Ubisoft revealed the final season of Year 6 for Tom Clancy's Rainbow Six Siege. Year 6 Season 4, also known as Operation High Calibre, will bring a brand-new operator, map rework, new features, balancing changes, and QoL improvements. You can watch the entire reveal panel via the video below:
New Operator Thorn
The upcoming operator, Thorn, is the game's first Irish operator. She is a "two-armor two-speed" operator that is ideal for anchoring. You can choose between Barbed Wire and Deployable Shield for her secondary gadget.
New Gadget
For her primary gadget, she gets three proximity-based explosives called Razorbloom Shell. These explosives will activate when an attacker is nearby. After that, there will be a short delay followed by a deadly explosion. Attackers must act quickly, find the gadget and destroy it before it explodes. If they can, they must leave the explosive radius.
The gadget is less about getting kills and more about creating last-second panics for attackers. Pair her gadget is Melusi's Banshees and you just might get a few kills with it.
New Weapon
Thorn has the UZK50Gi, a fictional gun developed by Ubisoft, as her primary weapon. The gun fires 50-caliber bullets with high damage and low recoil but a slow rate of fire. You can also use the M870 shotgun as her primary. For secondary weapons, you can choose between 1911 Tacops or C75-Auto.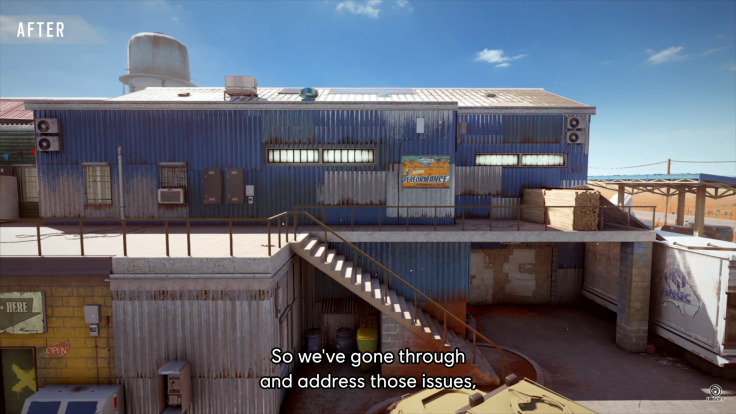 Outback Map Rework
Outback is now the latest map to get a rework. The map was always in a weird place, which had a massive size and many open areas. Attacking on this map was also quite difficult. But the rework will make things easier for attackers. Now, they won't have to worry about getting shot from everywhere. The outside platform has been extended so that players can easily reach windows. The clutter has been removed or simplified. The famous restaurant is now divided into two rooms.
As mentioned above, the new season brings tons of other changes. You can learn more about them in our previous article.
So what do you think? Are you excited about Operation High Calibre? Have you been playing Rainbow Six Siege recently? Let us know your thoughts in the comments section below.