Rainbow Six Siege is launching its Halloween event for Operation Shadow Legacy known as Sugar Fright. The event starts today, October 27, and runs through November 10. This limited-time event introduces a new mode which is called Candy War. What makes this new mode interesting is not only does it introduce a new map, but also has players respawn, a first for this game.
In this new mode, two teams of five face off against each other to collect 50 sweets within 10 minutes or less. Where do the sweets come from? Well, they're dropped from player kills. That means teams can earn points by taking out the other team or picking up those dropped by their allies. The mode is played on a map called Neighborhood.
For this particular event as well, 10 Operators are going to get the nightmare treatment, bringing in fabric and stuffing. They are divided into two teams, which are:
Tricksters (Attackers)

IQ, the Ambitious Puppet
Zofia, the Untamed Puppet
Nomad, the Unwavering Puppet
Capitao, the Commanding Puppet
Thermite, the Trickster Puppet

Treaters (Defenders)

Frost, the Tireless Puppet
Pulse, the Wistful Puppet
Ela, the Impetuous Puppet
Castle, the Diplomatic Puppet
Goyo, the Unassuming Puppet
So what do players get for all their troubles? Well, everyone gets to receive a free Sugar Fright pack, which offers some of the 32 available items. There is even the chance to get the pack-exclusive seasonal weapon skin and charm.
As mentioned, the operators are getting a unique treatment and each of the 10 get a headgear, uniform and weapon skin. The items are available in Operators Bundles for 1,680 credits each, or in Sugar Fright Packs for 300 R6 Credits or 12,500 Renown.
Pumpkin Carving Contest
For those who want to take a break from the Sugar Fright event, there's still the chance to get into the Halloween spirit with the Siege Pumpkin Carving contest. The contest starts on October 27 at 12:00 PM ET, with submissions being accepted until November 5 at 12:00 PM ET.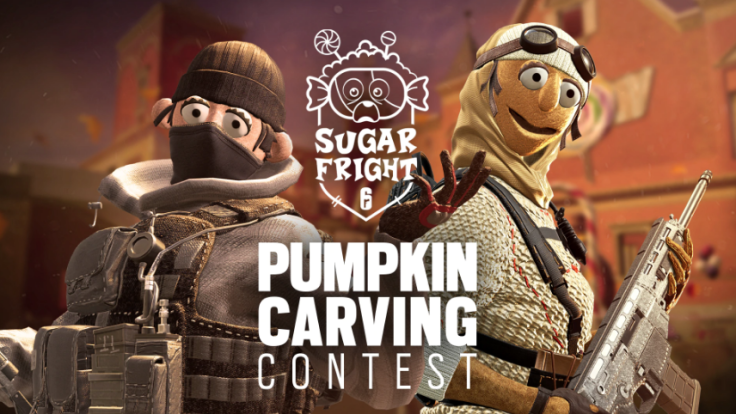 To join, follow these steps:
Grab a pumpkin and carve it up (make yourself something yummy with the guts too!).
Carve a Rainbow Six Siege themed pumpkin (brownie points if it's Sugar Fright Themed!).
Take a photo of your pumpkin with your social media handle in it.

It can be on a notecard, a post-it, or signed on the pumpkin itself – it just needs to be physical and visible in the photo somewhere.

Submit it on Social Media using the hashtag #PumpkinSiege (Twitter, Instagram) and tagging the official game accounts (@Rainbow6Game on Twitter or @Rainbow6Game_us on Instagram)
Be creative and spooky.
Submissions should only include video, images, costumes and/or artwork created by you.

The inclusion of images, artwork, or other assets owned/created by a third party (brand, company, or individual) are not eligible to win.
At the end of the pumpkin carving contest, 10 winners are going to be selected and gifted with the complete 2020 Halloween limited-event collection. Winners are going to be selected based on craftmanship, creativity, and adherence to the spirit of the contest and event.
If you're having a problem starting, you can download some pumpkin carving stencils here.