We may not want to admit it, but porn is big business. Sites like Pornhub see tens of millions of visitors a day, while transfering a whopping 118 GB per second! Pornhub also manages to record a ton of statistics (warning, this links out to Pornhub, but there's nothing explicit on the page), and there's a not-very-surprising amount of crossover with gamers.
What is surprising is how gamers watch their porn. The console seeing the biggest growth in porn viewership is the Nintendo 3DS with a whopping 110 percent rise. That makes sense with the release of some top-tier games for the system, including Metroid: Samus Returns and Pokémon Ultra Sun and Ultra Moon. On the flip side, the original Wii's porn usage has dropped the most, with 83 percent of users leaving for greener (or more fleshy) pastures.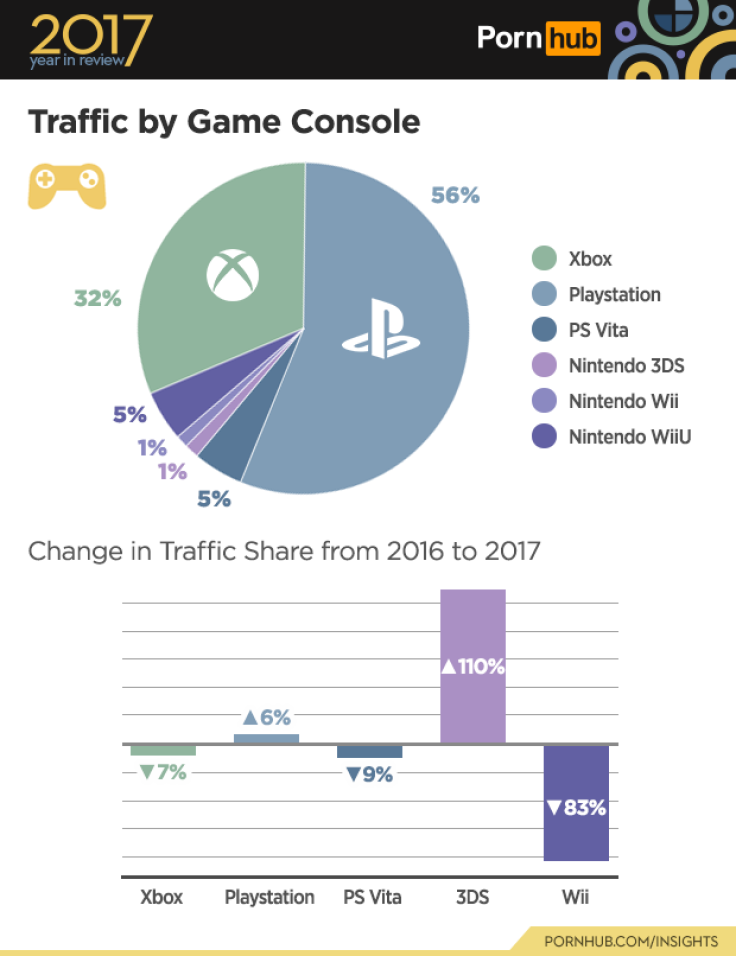 Not surprisingly, PS4 is the console with the most porn viewership, controlling 56 percent of all porn views on gaming consoles. This makes sense, seeing as how PS4 has sold the most consoles this generation, more than 70 million units worldwide. Xbox One comes in at number two, with 32 percent. Perhaps the biggest surprise is the Wii U, still commanding a solid five percent of views despite being an older console with poor sales. The new Nintendo Switch doesn't have a web browser yet, but you can imagine this console will spike up in viewers once it does.
We know how people are watching porn, and Pornhub also revealed the video game characters that turned us on the most in 2017. The top-searched character on Pornhub in 2017 was Overwatch's D.Va. The online shooter dominated the top 16 searches, with Mercy in second, Tracer in third, and Widowmaker, Sombra and Pharah joining in as well. The only male character to make the list was Ash from Pokémon.
In other gaming-related statistics, YouTubers and Twitch streamers were also heavily searched, including Pewdiepie. I guess people want to see him naked or something. No thanks.
If you're interested in stats, the Pornhub 2017 Year In Review is filled with all sorts of interesting tidbits. Just make sure you're in a safe area to be looking at Pornhub.
So what do you think? Did you use your 3DS for things other than playing games in 2017? What character do you think is the sexiest in gaming? Let us know your thoughts in the comments section below.