The PS5 June reveal event was amazing, there is no doubt about that. Now, Sony is back with yet another great event that gave us a more detailed look at their upcoming games. Some of them are first-party exclusive titles by SIE Worldwide Studios and some are third party games that will also be available on other platforms. Below is the list of all the games that were shown during the recent event along with their trailers. You can also watch the entire reveal over here.
Now onto the individual games. We will be updating this article as more information is released.
FINAL FANTASY XVI
The latest entry in the long-running Final Fantasy franchise is finally announced. Final Fantasy XVI is a PlayStation 5 exclusive. The online September event by Sony showed that the game will be available on both PC and PS5. However, that has now been retracted. There is conflicting news about whether FFXVI is a timed exclusive or a permanent one. A Square Enix spokesperson came out and said that they have "no further information on if Final Fantasy 16 will be released on platforms other than the PS5."
If previous FF games are to be taken into account, then a PC port is possible. Other reports have said that FF16 will release on PC six months after the PS5 launch. Only time will tell which news is true.
Marvel's Spider-Man: Miles Morales​
We finally got a closer look at the spin-off title, Marvel's Spider-Man: Miles Morales​. The trailer showed off the 'next-gen' graphics and the gameplay. Honestly, it was looking too good, so let's hope there is no downgrade this time (looking at you Marvel's Spider-Man 2018). It is also confirmed that the title will launch on both PlayStation 5 and PlayStation 4. The game is a launch title for PS5, which means that you can play Miles Morales on November 12.
That's not all, as the normal edition of Miles Morales will cost you $50 on either console. You can purchase the Ultimate Edition for $70 (only for PS5) which will contain a remastered version of 2018's Spider-Man. The remastered version will have ray tracing reflections, better loading times, updated assets, and more.
Hogwarts Legacy
Potterheads are going crazy. The very first open-world role-playing game set in Hogwarts has been announced. The game is developed by Avalanche Studios and published by Portkey Games. Hogwarts Legacy will take place in the nineteenth century and will put players in the shoes of a student. Developers have promised that the game will have a "new narrative that is filled with complex characters".
Hogwarts Legacy will launch sometime in 2021 (let's hope for no delays) for both current and next-gen consoles. You will be able to play the game on PC, PS4, PS5, Xbox One, and Xbox Series X/S.
Call of Duty Black Ops: Cold War
Call of Duty Black Ops: Cold War is only two months away, and it has been a mixed bag so far. While the campaign and the setting have us excited, it's the multiplayer and the lack of innovation that has us on the fence. Activision recently released a new gameplay trailer for Cold War where they show off some part of the very first mission in the game 'Nowhere Left to Run'. Black Ops Cold War will let us use enemies as human shields and will feature cool-looking executions.
As expected, the campaign will also feature bombastic Michael Bay-type action sequences. We aren't complaining though, just make sure they are not as stupid as the train scene from Call of Duty WW2. In other news, the open alpha of Black Ops Cold War will be available for PS4 this weekend. You can pre-load the game now.
Resident Evil Village
Wolves, witches, and more. Fight against all of them in Resident Evil Village in 2021. Capcom released one more trailer for RE Village which again left us feeling scared and excited. Just like its predecessor, Village is developed using the RE Engine and will only be playable in First Person mode. The game will not be available for the current-gen consoles. It will only launch for PC, PlayStation 5, and Xbox Series X/S.
Deathloop
The latest game by Prey (2017) developer Arkane Studios is looking weird. Deathloop seems like a mixture of Source Code and Dishonored, and will be launching in mid-2021. The game will be available for both PC and PS5. It is a timed-console exclusive which means that there is a very good chance that other console players will be able to enjoy the game a year after release. Get ready to hunt eight targets while you are getting hunted yourself.
PS: Hey Arkane, how about another Prey game, huh?
Devil May Cry 5 Special Edition
Already an amazing game, Devil May Cry 5 just got a lot better. A new edition of the game will be available for both next-gen consoles. Devil May Cry 5 Special Edition will be playable on Xbox Series X/S and PlayStation 5 at their respective launches. Special Edition will feature ray tracing support which will result in realistic lighting and shadows. A new Legendary Dark Knight difficulty mode and a Turbo Mode, which runs the game on 1.2x speed, will also be available for new consoles.
That's not all, as you can also play the game at 4K and 30FPS or choose the 120FPS mode with lower resolution. Capcom finally fulfilled fans' demands and made Vergil a playable character. Older consoles and PC players can also play as Vergil, but they will need to shell out $6 to do so.
Capcom has confirmed that PC players will not get the new difficulty mode, turbo mode, and ray tracing support. Those things are only for the next-gen consoles. Honestly, I don't see any logical reasoning behind that.
Oddworld Soulstorm
Oddworld Inhabitants released another trailer of their upcoming game, Oddworld Soulstorm. Soulstorm is a re-imagination of the original 1998 Oddworld: Abe's Exoddus. It also acts as a continuation for the 2014 title Oddworld: New 'n' Tasty!.
There is a bit of confusion about whether the game is a PlayStation console exclusive or not. It is already confirmed that Soulstorm will launch for PS4, PS5, and PC in 2020. However, the trailer mentioned that the game is a 'Console Exclusive for a limited time.' So, whether other console players will be able to enjoy the game or not has yet to be announced.
Five Nights At Freddy's Security Breach
Five Nights At Freddy's Security Breach just got a creepy looking trailer during the Sony September Showcase event. The trailer doesn't show any actual gameplay footage, however, it did give us a glyph of the setting. According to the developers, the game will take full advantage of PlayStation 5's immersive 3D Audio and the super-fast SSD. The game will be available for PS4, PS5, and PC. The release date or release window hasn't been announced yet. However, we do know that Security Breach will be a timed console exclusive for three months. Other console players will be able to play the game three months after the PS version release.
Demon's Souls Remake
This one had fans all hyped up. Demon's Souls Remake was confirmed during the June showcase event. But now, we have the actual in-game footage. The game supports fast load times thanks to the new SSD in the PlayStation 5.
While previously it was shown that Demon's Souls Remake would be available for both PlayStation 5 and PC, that has since been backtracked. Sony has said that the game is a PS5 exclusive. The mention of the PC version was a "human error". This is the second game that PC players got and lost on the same day (the first one being Final Fantasy XVI). Demon's Souls Remake will be a console launch title, which means that it will launch on November 12. The remake will not be available for PS4 users.
Fortnite
To nobody's surprise, the popular battle royale game is making its way to PlayStation 5. Fortnite will be available on PS5 at the launch date, aka November 12. The game will feature graphical improvements and use new technology like ray tracing. You will also be able to carry over your progression and all the cosmetics unlocked so far. That means players don't need to worry about starting over. Not going to lie, even with cartoonish graphics, the game is looking good. An Xbox Series X/S version has also been confirmed.
The PlayStation Plus Collection
Could this be Sony's answer to Xbox Game Pass.? The PlayStation Plus Collection gives you access to 18 amazing games for free to PlayStation 5 owners. You will be able to play these games at launch. However, you will need to be subscribed to PlayStation Plus. The collection has some amazing games like God of War, The Last of Us Remastered, Bloodborne, and more.
It is not known whether these games will feature any graphical improvement or performance enhancements, or if they are just simple ports. PlayStation Plus Collection will not be available in China.
PlayStation 5 Launch Date And Price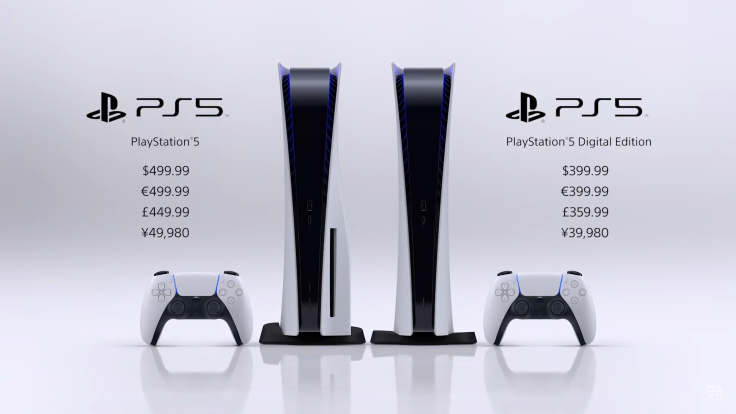 PS5 Digitial Edition is $400 and Disk Edition is $500. The consoles will launch on November 12 for the US, Canada, Japan, New Zealand, South Korea, Mexico, and Australia. The rest of the world can buy the console on November 19.
The pre-orders were supposed to go live today, however, due to a mess-up, they went live a day before. As expected, they are already sold out in most places. We recommend that you regularly check Amazon, Walmart, Target, GameStop, Best Buy, and Sam's Club. Some people are already selling their confirmed PS5 pre-orders for insane prices as high as $5,000. We recommend that you don't spend the absurd amount of money on eBay. Just wait for the official stock to get filled again.
God Of War 2
A sequel to one of the best games of 2018 was confirmed with a small teaser. Sony ended their already amazing (and somewhat confusing) stream with a big surprise. God of War Ragnarok was just the icing on the top that we needed. The Norse music, the logo, and Kratos' voice were enough to make us squeal like little girls. God of War Ragnarok will launch exclusively on PlayStation 5 in 2021.
Fan Theory: Kratos didn't say 'BOY' at the end, is it possible that Atreus is not a kid anymore?
Conclusion
Just like last time, Sony knocked this out of the park. As mentioned above, the upcoming PlayStation 5 will be available on November 12 for selected countries. Some amazing games were announced like Hogwarts Legacy and Final Fantasy XVI. We also saw a detailed gameplay look at Demon's Souls Remake. The biggest reveal in the game was definitely God of War Ragnarok. Not going to lie, I am a little disappointed that Horizon Forbidden West was missing from the event.
So what do you think? Are you excited about PlayStation 5? Have you pre-ordered your console? Was there any other game that you were looking forward to that wasn't shown? Let us know your thoughts in the comments section below.