iOS 9.3.3 jailbreak users beware! Apple's latest 9.3.4 software release will patch. Find out more about the security issue patched in iOS 9.3.4 and what jailbreakers should do to preserve their jailbreak.
On the heels of a groundbreaking Black Hat security presentation, Apple released its latest iOS 9.3.4 software, which patches a security vulnerability in the software discovered by none other than the Pangu Jailbreak team. According to Apple's support page, the vulnerability could allow the execution of "arbitrary code with kernel privileges," which in layman's terms means it could allow an attacker to do anything they want to on the device. The vulnerability is classified as a memory corruption issue and is the key weakness utilized by Pangu to create its recently released iOS 9.3.2 - 9.3.3. jailbreak tool.
Should You Upgrade To iOS 9.3.4?
While all Apple users with an Phone 4s or later, iPad 2 or later or iPod touch (5th generation) or later are encouraged to update their device to the latest iOS 9.3.4 software, for those who have chosen to jailbreak their devices with Pangu's latest iOS 9.3.2 -9.3.3 jailbreak tool, this update will give them reason to pause. If jailbroken users update to 9.3.4 they will lose their jailbreak and be unable to downgrade once Apple stops signing the earlier two firmware.
At the time of this writing, Apple's signing windows for both iOS 9.3.2 and 9.3.3 were still open, so if something happens on a jailbroken device that requires restoring it, users can still downgrade. However, no one ever knows when the window will close, so use caution when trying to tweaks if you want to preserve your jailbreak (You can check if a firmware is still being signed here).
The patch comes just 12 days after Pangu released their iOS 9.3.2 – 9.3.3 jailbreak. The jailbreak utilizes a somewhat more unconventional method than past jailbreaks and requires a valid Apple ID in order to install it.
On Wednesday, members of the Pangu jailbreak team presented in-depth security details of their iOS 9.3.3 jailbreak at Black Hat 2016. The talk was quickly followed by a presentation by Apple's security chief Ivan Krstić, on Apple security and the announcement of a new Apple Bug Bounty program.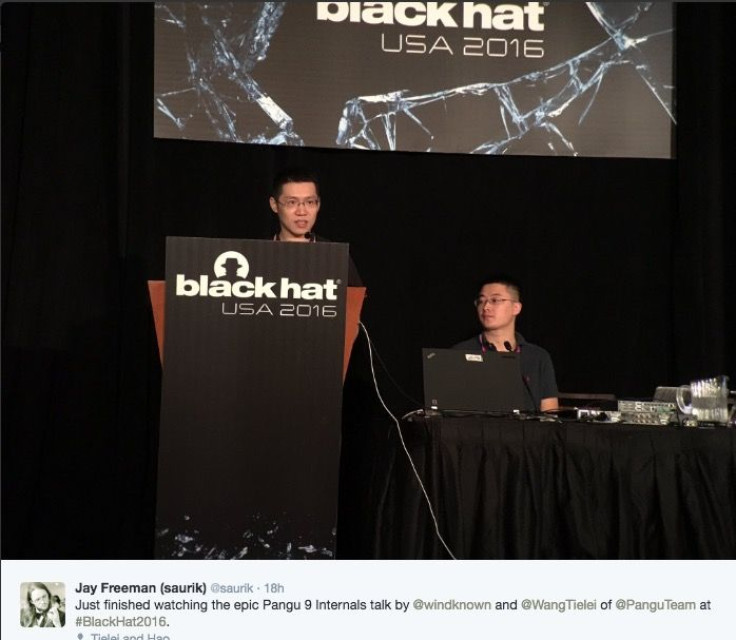 Can I Still Jailbreak My iPhone With Pangu's Tool?
If you haven't jailbroken your Apple device with Pangu's latest tool but were thinking about doing it, now is the time before Apple closes the signing window. You can find a complete tutorial on how to install and use the jailbreak here or visit the official Jailbreak subreddit for more help.