Grab your credit card and quickly pre-order Horizon Forbidden West. However, make sure that you only pre-order the version of the game that suits you best. There are a total of five different editions of Forbidden West available. We have done the research and have mentioned what each edition contains.
But before we go dive into that, do know that there is a pre-order bonus for almost every player. Anyone who pre-orders the game digitally will get access to Nora Legacy Outfit and Nora Legacy Spear. Players who buy the game physically from participating retailers will also get the bonus, except those residing in North America and Canada.
Now let's begin.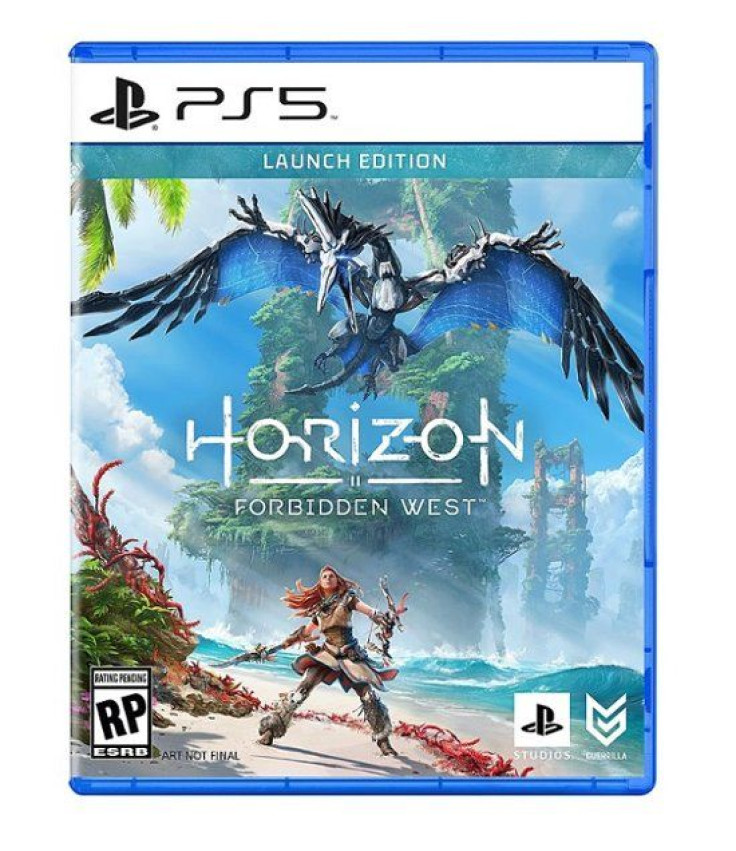 Standard Edition
Also known as the Launch Edition is the most bare-bones version of Forbidden West. It only offers the base game, nothing else. There are no extra goodies or a free upgrade path. The PS4 version of the game will cost you $59.99 and the PS5 version will cost you $69.99. The PS5 version comes with graphical improvements though.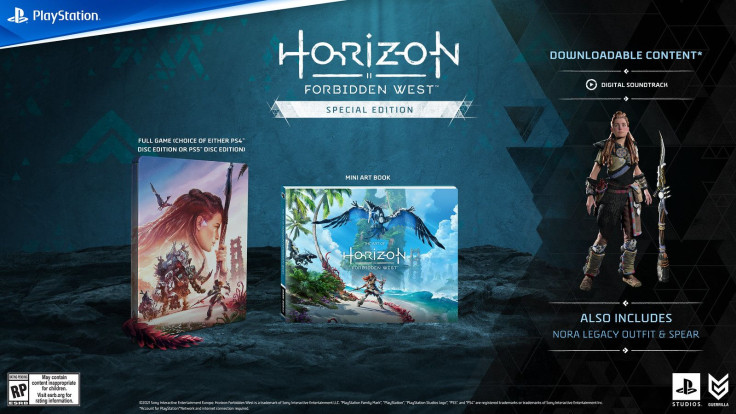 Special Edition
This edition contains some digital and physical goodies. It comes with a physical disc copy along with a beautiful SteelBook cover. It will also contain a Mini Art Book and a Digital Soundtrack. Unfortunately, no free PS5 upgrade. The price of the PS4 version is $69.99 and the PS5 version is $79.99.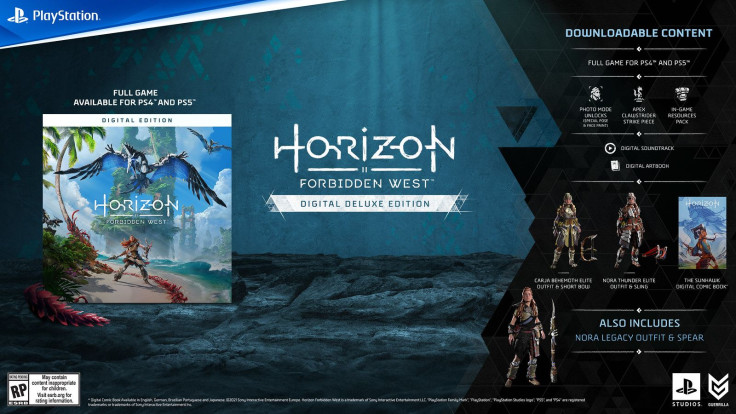 Digital Deluxe Edition
This edition is good for those who want all of the game content. This edition is only available on PlayStation Store and will cost you $79.99. There are no physical goodies as this is a digital product. It contains the following stuff.
Horizon Forbidden West (Digital) PS4 and PS5 versions

2 Special Outfits (Carja Behemoth Elite and Nora Thunder Elite)

2 Special Weapons (Carja Behemoth Short Bow and Nora Thunder Sling)

In-game Resources Pack including ammunition, potions, and travel packs

In-game Apex Clawstrider Machine Strike Piece (more on Strike in the FAQ)

Exclusive Photo Mode pose and face paint

Digital Art Book

Digital Soundtrack

Digital Version of The Sunhawk, the first Horizon Zero Dawn graphic novel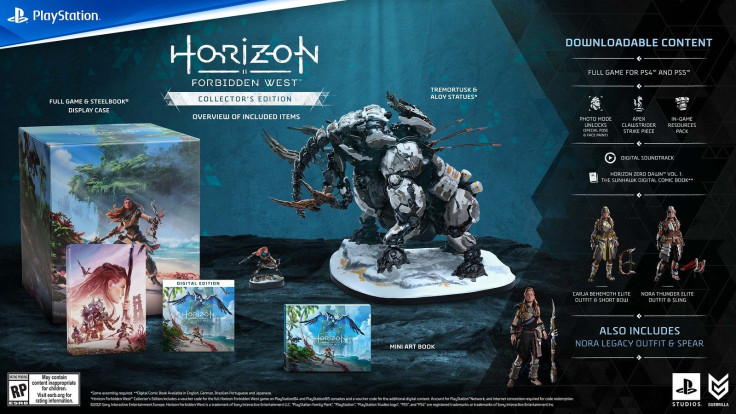 Collector's Edition
This edition is for, well, collectors. The Collector's Edition contains everything available in the Digital Deluxe Edition, along with bigger stuff. It will contain a custom sculpted Tremortusk and Aloy Statue, although you will have to assemble them yourself. A Mini Art Book and SteelBook Display Case will also be a part of it. Collector's Edition will set you back $199.99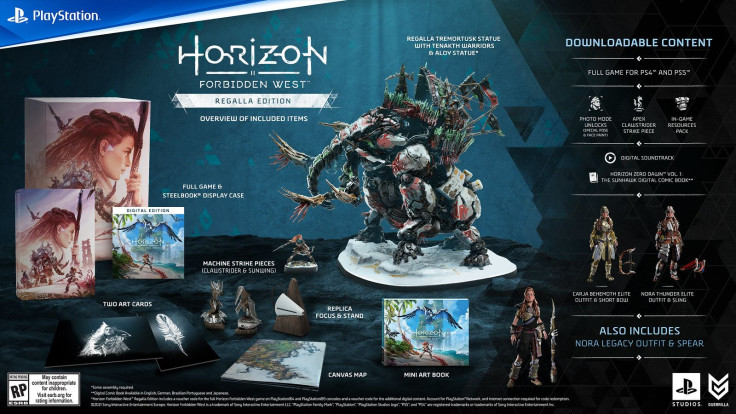 Regalla Edition
The Regalla Edition is the biggest and the most expensive edition of Horizon Forbidden West . It costs a whopping $259.99. While it contains everything from the Collector's Edition, the Tremortusk Statue in RE is slightly different from the one in CE. It will have Tenakth Warriors on top of the Tremortusk Statue.
The Regalla Edition contains these physical goodies as well:
Replica Focus and custom stand

2 Art Print Cards

Replica Sunwing and Clawstrider Machine Physical Strike Pieces

Canvas Map
If you have doubts, then feel free to check out the official blog for FAQ.