Independence Day is almost here and what better way to go about it that celebrate in style? This week in GTA Online Business Battles are giving players something special. In additional to the usual GTA$ and RP rewards, they're also going to reward players with the Statue of Happiness T-Shirt as well as the Supa Wet Beer Hat.
There's also hall-off Independent Day Specials offered for the Liberator Monster Truck, Firework Launcher, celebratory clothing, and Face Paints, among others. The 50% discount is available until July 8.
For those that have a little time to relax, head on over to The Diamond Casino & Resort and earn the usual prizes. This being a special weekend, the top prize is the Western Sovereign. Don't forget to wear a helmet, though, and a beer hat does count as one, right?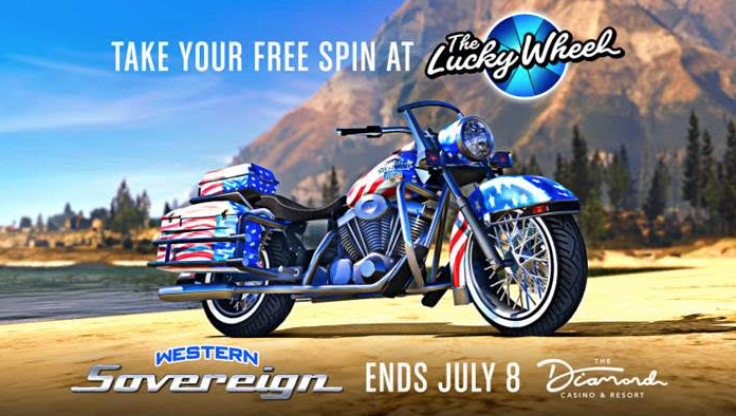 For this week, the Mammoth Avenger, along with its different customizations, is available at 60% off. There's also 70% off on all bunkers, hangars, and facilities. There is also a 50% discount for Arcade Properties. Other discounts offered this week are:
50% Off Vehicles:

All Yachts
Mammoth Thruster
HVY APC
Pegassi Oppressor Mk II
Mammoth Tula
RM-10 Bombushka
V-65 Molotok
Principe Deveste Eight
Emperor ETR1
Bravado Gauntlet Hellfire
Buckingham Luxor
Buckingham Luxor Deluxe
Buckingham Swift
Buckingham Swift Deluxe

50% Off Independence Day Specials

Liberator monster truck
Sovereign motorcycle
Musket
Firework Launcher
Vehicle Horns
Tire/Parachute Smoke
Face Paints
Clothing
MOC Liveries
Mk II Weapon Livery
Haircuts
Masks
Firework Ammo
USA Parachute Bag
The week wouldn't be complete without membership benefits. The first is for PlayStation Plus members. Those who play the game beginning today and until August on PS4 get to receive GTA$1,000,000. That's not all, as members actually get to earn GTA$1,000,000 per month until GTA Online is officially released on PlayStation 5.
For Twitch Prime members, they get a new round of GTA$200,000 between July 2–8 by simply playing the game. In addition, starting today and until July 29, members get to earn GTA$1,000,000 in bonus cash. They also get a rebate on the base property purchase price of Pixel Pete's Arcade. There is also a 70% discount on the Declasse Mamba roadster and 80% off on the V-65 Molotok jet fighter.