It's Speed Week in GTA Online, so pedestrians better watch out, especially for those loose wheels and even some bits of flying chassis. It's not only that as different races are giving out extra rewards. Starting on June 18 and running until June 24, all Open Wheel Race series competitions are paying out Double GTA$ & RP. With seven race courses to choose from, that means more ways to get more rewards.
If being on the ground is too tame for you, then go ahead and take on the Parachute Races. It's not just going to raise your adrenaline, but winning them gives you Triple GTA$ & RP. Hopefully this should be enough to help you get through the week.
However, if you're tired of racing, then maybe it's time to get a foothold in the criminal industry. Associates & Bodyguards are paying out Tripled Salaries this week. It's not all that's available, as VIP Work and Challenges are also paying 2X GTA$ & RP.
There's also a number of freebies this week. Those who play GTA Online any time before June 24 get to receive the Coil USA tee. This shirt gives you the feel of "I Love America! And my hybrid electric vehicle."
Now after all that racing and work, it's usually advisable to take some downtime. What better way to do it than to visit The Diamond Casino & Resort? Before leaving, don't forget to give the Lucky Wheel a spin. There's the usual chance to win cash, clothing, RP, and even different mystery prizes. This week the top prize is the Ocelot R88, a good choice for those who want to cosplay as a racecar driver and break a few local road laws every now and then.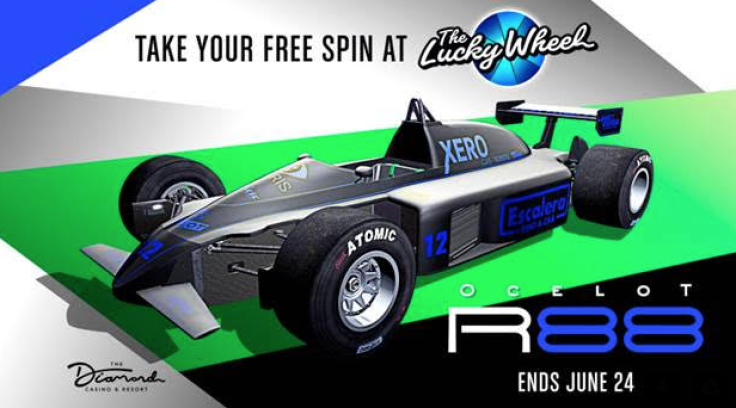 For this week, there's the usual discounts offered. However, before we go into these, there are free vehicles being offered this week. These are the BF Raptor, Shitzu Hakuchou, Principe Nemesis, and Nagasaki Hot Rod Blazer.
Now on to the discounts for this week, which include:
Vehicles on Sale:

Vapid Flash GT – 40% off
Itali GTB – 40% off
Coil Rocket Voltic – 40% off
Ocelot Stromberg – 35% off

Executive Offices – 40% off:

Maze Bank West
Arcadius Business Center
Lombank West
Maze Bank Tower

Executive Office Customizations – 30% off:

Interiors
Organization Name Change
Money Safe
Gun Locker
Accommodations

Large Special Cargo Warehouses – 50% off:

Wholesale Furniture
West Vinewood Backlot
Xero Gas Factory
Logistics Depot
Bilgeco Warehouse
Walker & Sons Warehouse
Cypress Warehouses
Darnel Bros Warehouse
Finally, we go to the Twitch Prime offer this week. GTA Online players who managed to connect their Social Club account with their Twitch Prime and play the game any time between June 18 and June 25 get a GTA$200,000 bonus. For those who've been playing for the past two weeks and got those bonuses, it's time to keep the streak going this week and next week as well in order to get all bonuses. Then there's also the rebate on the base purchase price of the Pixel Pete's Arcade property along with a 70% discount on the Declasse Mamba roadster and 80% off for the V-65 Molotok plane.