It's real! The previously leaked Ghost of Tsushima Director's Cut is actually real. Initially spotted on ESRB Rating, the new edition of the game will release on PlayStation 4 and PlayStation 5 on August 20, 2021.
What It Contains?
The Director's Cut contains every piece of content ever released for GOT. PlayStation 5 players will get several new features like Japanese lip-syncing, 3D audio, reduced loading time, 60 FPS mode, and 4K resolution support. Since its PS5, expect haptic feedback and adaptive triggers.
The developer hasn't forgotten PS4 players just yet. The new Iki Island expansion pack will be part of the Director's Cut, also coming to both PS consoles. Check out the new trailer below.
Iki Island Expansion Pack
Just like Tsushima Island, Iki Island was invaded by the Mongols. The new expansion takes Jin to the island where he will relive some disturbing events from his past. The story has some personal stakes where you will meet several new characters.
There will be new armor sets, mini-games, enemy types, and more. New trophies for Iki Island will be part of the Director's Cut as well. You can visit Iki Island when you reach Act 2 in the base game.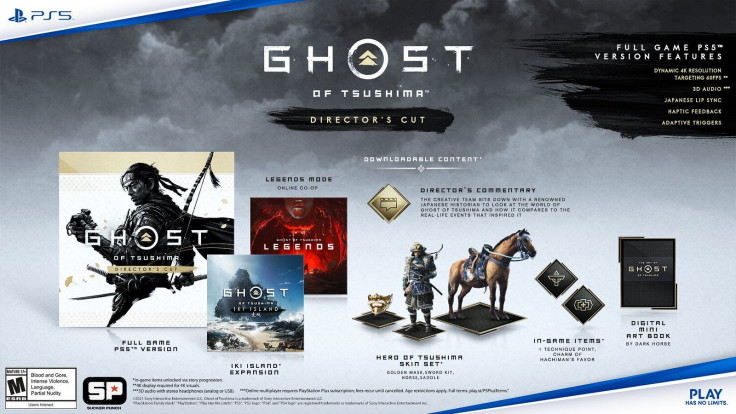 Upgrade and Price
The PS5 version of the Director's Cut will cost you $69.99, whereas the PS4 version costs $59.99. The Director's Cut can be purchased both digitally or via retail stores. Preordering from selected retailers will give players a Digital Art Book and digital mini soundtrack. The mini soundtrack contains two new tracks from Iki Island plus 10 tracks from the original GOT.
Existing owners of Ghost of Tsushima (PS4) can upgrade to the Director's Cut for only $19.99.
Two more upgrade paths are available. If you buy the Director's Cut for PS4, you can upgrade it to the PS5 version anytime for $9.99. You can also directly upgrade from the original Ghost of Tsushima (PS4) to Director's Cut (PS5) for $29.99. More information is available on the official site.
So what do you think? Are you excited about the Ghost of Tsushima Director's Cut? Will you play the new expansion pack? Let us know your thoughts in the comments section below.