Raoul Peck's last movie, the Academy Award nominated documentary I Am Not Your Negro, was built on archival footage and the incomparably graceful, forceful prose of James Baldwin (voiced, with cool intensity, by Samuel L. Jackson). In contrast, The Young Karl Marx opens with violent cinematic energy. Peasants gather dead wood from the forest floor, transforming inert matter into firewood. Suddenly men on horseback set upon them, clubs in hand, smashing the faces of old women and leaping from their horses to stab, beat and kick the gatherers. The scene has the aura of parable, with violence inflicted on the poor even in the Edenic greenwood, where their labor is closest to nature.
Though achingly narrative, tightly focused on the personality and day-to-day financial and political struggles of Karl Marx (August Diehl), his wife Jenny (Vicky Krieps) and their growing family, The Young Karl Marx is also about ideas, particularly the hidden currents underlying events like the forest attack upon the peasants.
For a 24-year-old Marx, writing and editing for a short-lived German newspaper, the brutality of landowners violating traditional Commons revealed "the ground level" of class conflict, where publicly-espoused principles are exposed as lies in service of a capricious gentry. "You have erased the difference between theft and gathering. But you are wrong to believe it is in your interest," Marx reads aloud from his article. "The people see the punishment, but not the crime. And, as they do not see the crime, when they are punished you should fear them, for they will take revenge."
The end of The Young Karl Marx is similarly arresting, fading from the first publication of Marx and Friedrich Engels' Communist Manifesto into a dizzying montage of the subsequent 170 years of capitalist devastation, set to Bob Dylan singing "Like a Rolling Stone." Make no mistake, The Young Karl Marx tells us, this isn't just a history lesson — take it to the streets.
Though much of The Young Karl Marx is what you'd expect from such a leading title (You've heard the expression 'let's get busy'? Well this is a political theorist who gets biz-zay ... consistently and thoroughly), the movie is also about how political movements coalesce around ideas, building communal structures from seemingly conflicting people and aims. Marx gets a sex scene, drinks too much with Engels (Stefan Konarske) and complains about not getting paid on time, but The Young Karl Marx also spends a lot of time in heated intellectual exchange, as the intemperate Marx argues with other revolutionary luminaries of the day, including early anarchists like Pierre-Joseph Proudhon and Mikhail Bakunin, and especially the un-rigorous Christian communism of charismatic public speaker Wilhelm Weitling.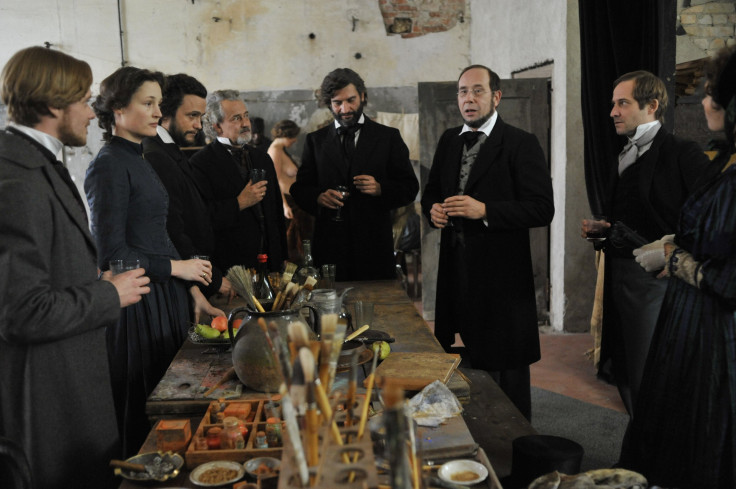 Meticulously written from letters, meeting transcripts and direct quotation, The Young Karl Marx is strongest when you'd think it would be most boring. Unlike too many biopics, which drip with the presumption of its subject's historical import, Marx and his ideas, still a battleground today, have all the immediacy of contemporary political discourse. Rather than action scenes, The Young Karl Marx has vicious, mic-dropping debates, climaxing in the surprisingly rousing parliamentary pivot from loose "All Men Are Brothers" messaging to explicit class struggle, as Engels unfurls the red banner inaugurating The Communist League. Still, the movie suffers when dramatizing the external pressures on Marx's activism, particularly with a street chase from Parisian authorities that feels more Scooby Doo than dangerous.
Dense, personal and polemical, The Young Karl Marx may be a bit too staid to imagine as a rallying point for young activists, but it's hard to remember a movie that's shouldered as much political theorizing, let alone this ably. With arresting performances, lush depictions of 19th century, Industrial Revolution-era Europe and an unparalleled depiction of how world-shattering ideas are nurtured, The Young Karl Marx feels almost like history itself, capturing the living past for our consideration.
The Young Karl Marx is out in theaters now.