It's a new week once again, and The Crew 2 has given us another blast from the past. This time the LIVE Summit in The Crew 2 is all about the Human NOSball. For this one, player needs push their vehicles to the limit in order to get to the top spot. The LIVE Summit starts on August 12 and runs through August 19.
Now, before we go into the details of this week's LIVE Summit, let's take a quick look at what's going to be happen in August. This week is the second LIVE Summit, which means that there are two more left for the month.
For this month, there's going to be some new Shop additions that include:
Ford Mustang Boss 429 (1969) – Street Race
Ferrari 512 TR (1991) – Street Race
DeLorean DMC-12 (1981) – Street Race
Pontiac Firebird T/A (1982) – Street Race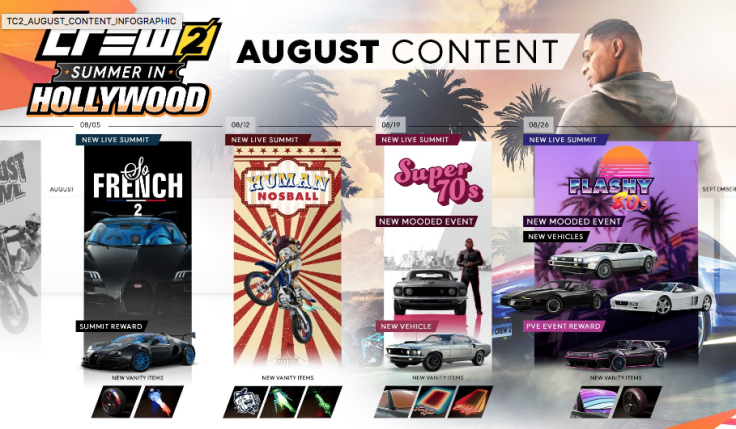 The next two LIVE Summits are going to be the Super 70's and Flashy 80's, both of which are going to be mooded events. The DeLorean DMC-12 Rad Edition is going to be free when players complete the Miami Ride. Meanwhile, the Flashy 80's Street Race event is going to run until August 26. The new LIVE Summits are going to have associated rewards like the Bugatti Veyron Deep Blue Edition (2016).
Now that we have that out of the way, let's see what's going to happen this week.
For the skills, players need to complete three of them. One is Speedtrap, where players need to go as fast as they can and then drive by a camera and have the speed recorded. If the speed is considered too low, it won't be recorded. Another skill tested is known as Escape, where players need to keep away from an ever expanding circle. Finally, there is Low Altitude, where players need to fly as low as they can without touching or crashing into any objects.
Meanwhile, races for this week include Serial Jumpers, Bonneville, and Salt Lake City, among others.
So what kind of rewards are coming for everyone this week? These include:
Platinum: Green Jet Nitro
Gold: Red Bushimura Tire
Silver: Corvette Stingray Visual Parts
Bronze: 300K Followers
Of course, players won't be going at it bare-handed as the Human NOSball bundle has all of these:
Chevrolet Corvette Stingray (2014) – Drag Race
Porsche 935 2.0 Coupé "Baby" (1977) – Touring Car
DCB M31 Widebody (2018) – Powerboat
RUF 3400 K (2007) – Rally Raid
Ducati Panigale R (2015) – Touring Car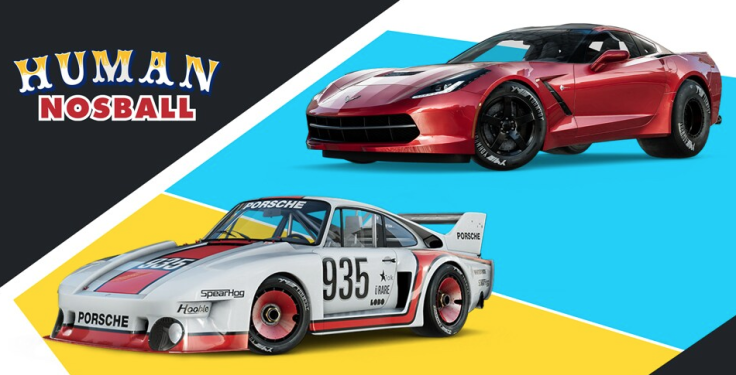 For players that just want to chill, they can take the time to get the KTM 1290 Super Duke R ABS. It's available in the Far & Beyond store from August 12–19.
What are your thoughts on this week's LIVE Summit?