The Snowstorm update for Warface is now available. It introduces a sniper rifle that has the potential to kill just about anyone in one go. This update also fixes a vulnerability that allows some players to launch the game without the anti-cheat enabled.
Superior Firepower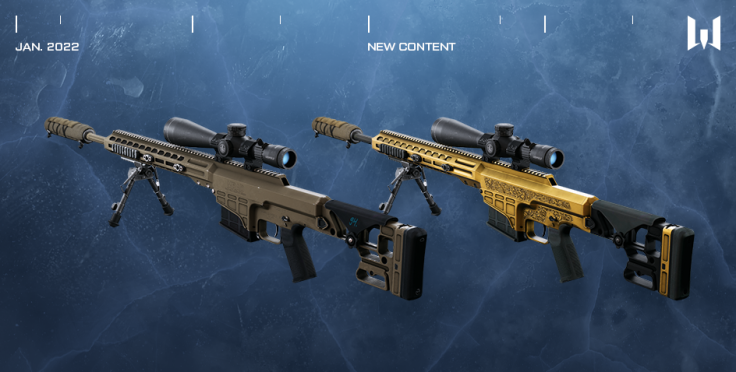 Are you looking for a sniper rifle that can take enemies out very efficiently? If so, you'll love the new Barrett MRAD Mk22! This weapon boasts incredibly high base and minimum damage numbers, with damage multipliers to the body and limbs that are just a class above the rest. The power of this sniper rifle is so good that you can potentially one-shot even a well-equipped opponent.
But what are the downsides? Well, it does have a very strong recoil. So, you should be mindful about firing bullets in quick succession as your accuracy will suffer on subsequent shots. Moreover, its hip-fire accuracy leaves much to be desired. So, this weapon is only good if you shoot enemies from afar using the built-in scope.
Lastly, its Aim-down Sights (ADS) speed is considerably lower than the likes of the Alpine Special or the AMP DSR-1 Custom. Other than that, it is quite an effective sniper rifle for long-range combat.
Update Highlights
CONTENT CHANGES
Reinforcement of the game defense system
Now, spammers using double climb to end a game session early will be kicked from the match

Fixed a vulnerability that allowed launching the game client without the anti-cheat
Weapon Tweaks
AUG A3 9mm XS Custom (all versions): increased rate of fire (from 755 to 760), increased minimum damage, reduced damage drop at a distance, reduced reload time, increased the weapon change speed and the ADS speed

AUG A3 9mm XS Custom (only the regular version): added the possibility to mount collimator sights Truglo and EOTech 553
Other
Turned down the volume of exploding fireworks on festive winter maps

Modification system: improved mods display on the mod creation screen. Now, there is one mod type in each column
BUG FIXES
Important
Fixed a bug due to which the defense system could kick players from special operations if they fired from some types of shotguns

Hydra: fixed a bug due to which the incorrect amount of Battle Pass experience was given for completing the operation. Current values:

20 stages: 120 experience points (instead of 160)

Full completion: 200 experience points (instead of 160)
Weapons and Gear
Golden Ruger Mk IV Lite: fixed bugs due to which, after the player's death, the pistol would be dropped, and could be picked up; its magazine and ammunition counters were missing, and kills made with the model did not count for the achievement progress

Fixed a bug due to which in the mod creation window, modifications that increase the rate of fire of shotguns could be displayed incorrectly
If you want to read the full patch notes, you can head over to the game's official Steam page.