It has been more than three months since we last played a Sony first-party game on PC. Bend Studio's zombie game, Days Gone, was released on PC back in mid-May. Since then, no other PlayStation-exclusive game has been announced for PC, yet anyway.
However, during a presentation, Sony accidentally revealed that Uncharted 4 is the next title to be ported on PC. This was not a complete confirmation but it sure got fans excited. Now, we have more news for you.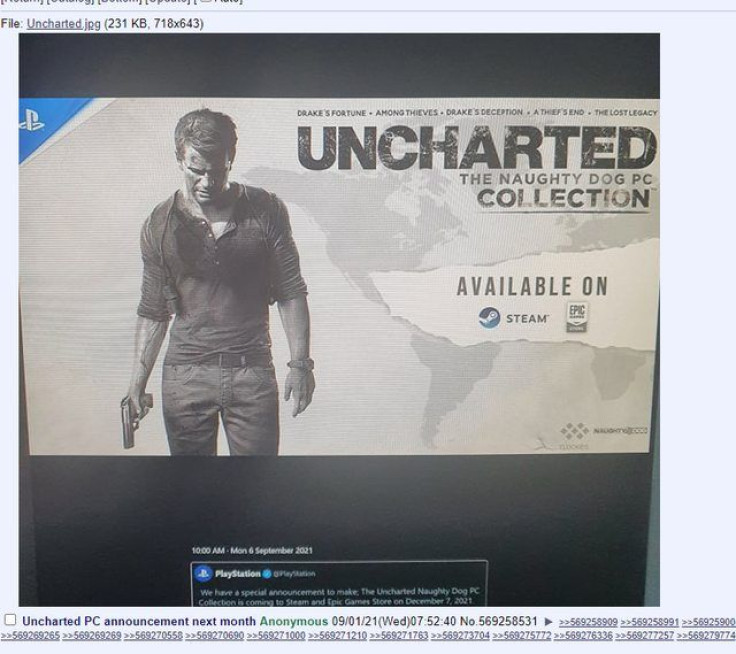 A recent rumor on the internet reveals that not only Uncharted 4, but the entire Uncharted collection is coming to PC. The compilation is supposedly called the "Uncharted Naughty Dog PC Collection." It will contain all mainline games from 1 to 4, along with The Lost Legacy standalone expansion pack.
These are the five games in one compilation.
Uncharted: Drake's Fortune
Uncharted: Among Thieves
Uncharted: Drake's Deception
Uncharted: A Thief's End
Uncharted: The Lost Legacy
Just like Horizon Zero Dawn and Days Gone, the collection will launch on Steam and Epic Games Store. The leak gave us important dates as well. Sony will announce it on September 6, and the game will release on December 7.
Do keep in mind that it is only a leak and not an actual announcement. So take this with a grain of salt. Also, the leak originated from 4chan and then found its way to a forum on ResetEra. So this is not exactly a credible source. Anyway, we will know for sure on September 6 whether the leak is accurate.
Even if it is untrue, the chances that Uncharted 4 will get a PC release sometime in the future are not entirely axed.
In other news, Sony has announced that they will be hosting a PlayStation event on September 9. So stay tuned for that as well.
So what do you think? Are you excited about the Uncharted Collection on PC? Will you pre-order the entire collection or wait for reviews first? Let us know your thoughts in the comment section below.