One of the biggest PlayStation 4-exclusive games is finally getting a PC release, or at least that's what Sony's Investor Relations briefing revealed. Yesterday, PlayStation CEO Jim Ryan showed a presentation to investors where one of the slides revealed Uncharted 4: A Thief's End being planned for a PC release. The slide was first noticed by Twitter user @Wario64.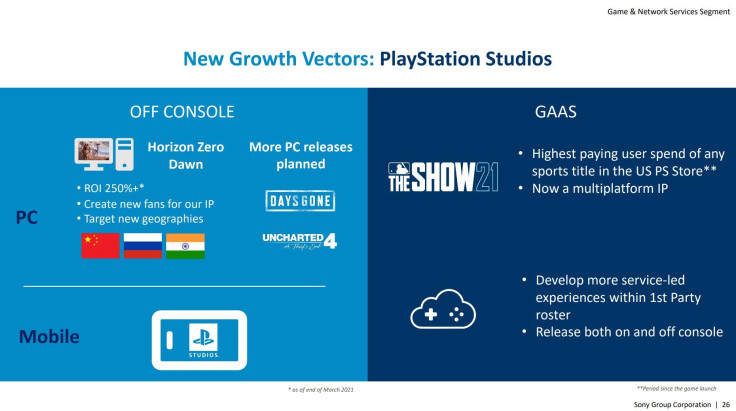 It's not an official confirmation but it's very close. Unless the company's plan drastically changed within a few hours, I would expect the GOTY-winning game to be ported to PC. The release of Uncharted 4 on PC will fall in line with what Sony has been doing with some of its other big AAA titles like Horizon Zero Dawn and Days Gone.
Uncharted 4 was released on PS4 back in 2016. The game received critical reception from both fans and critics, and also won several GOTY awards and did incredibly well in sales. It is currently the second highest-selling game on PS4 with 16 million copies sold, just after GTA 5, which sold 20 million copies.
We don't know whether this is an intentional early tease by Sony or a big mistake. It doesn't matter now since the information is already out. There have been other rumors on the internet suggesting that Bloodborne, God of War, and Ghost of Tsushima are also being ported to PC, and only time will tell if these rumors will come true.
We are 100% happy if we can play Uncharted 4 on PC. However, it will be weird if the Nathan Drake Collection, which contains the first three games, will not be ported to PC. There is also no information about the standalone expansion pack, The Lost Legacy. For certain players, it will make more sense to port all Uncharted games to the platform, instead of just the last title unless there's some reasoning behind it.
So what do you think? Are you interested in playing Uncharted 4: A Thief's End on PC? Have you already played the game on PS4? Let us know your thoughts in the comments section below.