Tom Clancy's Rainbow Six Siege post-launch support has been confirmed to continue to Year 7. The developer revealed tons of information about what you can expect in the coming year. From what we have seen, the future looks promising.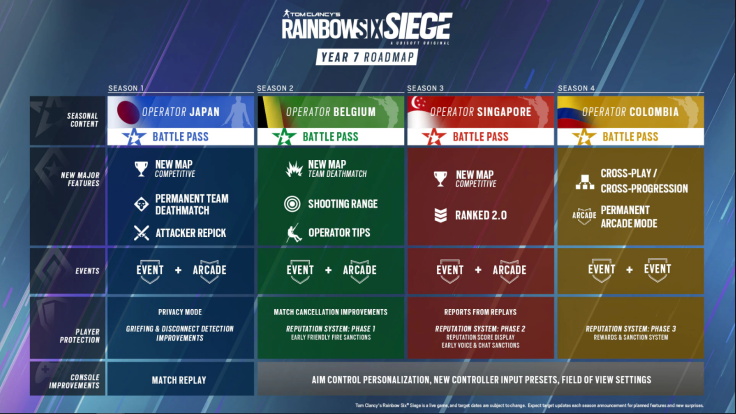 Origin Countries of All Operators
During the Year 7 panel, the developer revealed all the origin countries of all four operators. The first operator is Azami, and she hails from Japan. Season 2 will bring an operator from Belgium, whereas, Season 3 and 4 will bring operators from Singapore and Colombia, respectively. The names and abilities of the latter three operators are not known at this time.
New Maps, Modes, and Features
We know that this year, we are getting three new maps. Season 1 and 3 will bring new maps for the competitive mode, and Season 2 will bring a map for TDM. As we are talking about Team Death Match, the said mode will be added in Season 1, and it's permanent. Season 2 will bring the highly-demanded Shooting Range, and the season after that will bring a complete rework of the Ranked Mode.
That's not all as Year 7 will finally bring the previously announced cross-play and cross-progression. However, they will arrive in Season 4, which also brings the Permanent Arcade Mode. We will get one temporary event and one temporary Arcade Mode each season, except for Season 4, which will deliver two temporary events.
Season 1 Operation Demon Veil
The developer has revealed almost everything about Y7S1: Operation Demon Veil. It features a new defending operator, a new map arriving mid-season set in Ireland, and the Goyo Rework. Several other tweaks and improvements will be made as well. Season 1 is currently live on the test server, where it will stay for the next few weeks.
More information about the rest of the seasons will be revealed as the year goes by.
So what do you think? Are you excited about Year 7 of Rainbow Six Siege? Which season are you most interested in? Let us know your thoughts in the comments section below.