In a move designed to shore up Snapchat's monetization policy, Snapchat decided to start charging its users $0.99 for three extra replays on top of the one free replay they already allowed users to have per day. This, an achievement based system called Trophies and a new feature called Lenses are being rolled out in a new update to the Snapchat app.
If you're having problems figuring out how to use the new Lense filters, try tapping directly on your face while the selfie camera is still open, but before a picture is taken. A wiremesh will appear and map your face. From there you can scroll to different filters.
To access the new trophy case, click on the tiny little ghost that appears centered at the top of the camera page. Trophies are like Foursquare badges or Xbox Live achievements.
To purchase the new replays, just use your free reply for the day first.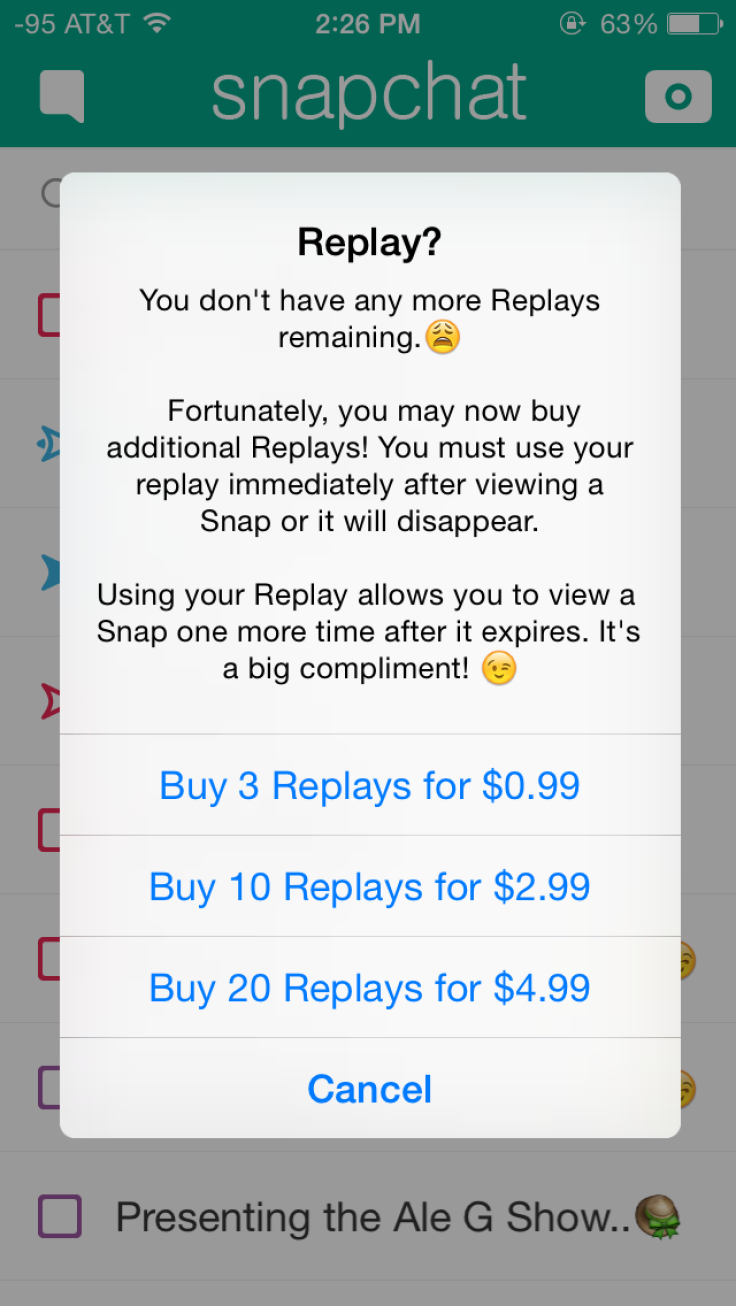 Snapchat, which has seen large traction among the teenage market, is widely seen as a picture based replacement for the messaging component of Facebook, with the added bonus of having that information wiped from the cloud periodically. However, as Snapchat can't data mine users' information for advertising dollars, this has led to a smaller advertising market for the Snapchat platform.
Media companies and agencies can currently buy time on the Snapchat platform as either a Discover Partner or as a sponsored story that gets spliced in between the official Snapchat Stories, which typically focus on curating videos from events like Coachella or a day in the life of a city such as New York City or Paris.
The $0.99 for three replays is the first step Snapchat has taken toward requiring users to pay for their free service. The three replay tokens will be usable whenever, but a specific Snapchat message can only be replayed once. This of course doesn't apply to a user's own Stories, which can be replayed over and over again during the 24-hour time period in which they exist and that The Verge argues is "Snapchat's most widely-used feature."
While Snapchat didn't make much money in 2014, they are expected to bring in $50 million from advertising this year, and that was before it added this new revenue stream.
The new Lenses feature that Snapchat will also be including in the new update is a continuation of the idea the firm had earlier this year for an advertisement for the movie Terminator: Genisys, as can be seen here. The new feature will implement face tracking technology to combine aspects of popular apps that make you look fat or old, with filters ala the Photobooth application on Mac OS X.