A seasonal chill has arrived and brought in heavy snowfall along with a warming holiday spirit. In Red Dead Online, the holiday season is setting in. This means it's time for some Seasonal Gifts and Items.
To start things off, players simply need to visit the Benefits page in the Pause Menu and get a free set of gifts. These include a Coupon for a free Coat along with a Coupon for a free Repeater.
Celebrate the Holidays
In celebration of the holidays, get to enjoy a little competition with the festive version of modes like Make It Count – Bow & Arrow and Last Stand. For this week, these modes offer 3X the usual RDO$ and XP payout.
Meanwhile, all across the states, Stables are offering new Turkoman breeds. These include Grey, Black, Chestnut, and Perlino variants.
It's also a good time to visit the local Gunsmiths. They're handing out new Winter Evans Repeater variant gratis for simply stopping by. Since you're already there, why not grab the seasonal Krampus Shotgun variant of the Double Barrel Shotgun?
Time for a Legendary Bounty
Before we continue with what other things are offered this week, there's a new bounty up for grabs. It looks like a 7th Generation cult has been found to pose a significant threat to peace. The group is currently led by Virgil Edwards, also known as "The Shepherd." His followers are pretty easy to identify with their robes and the upside-down seven carved on their foreheads.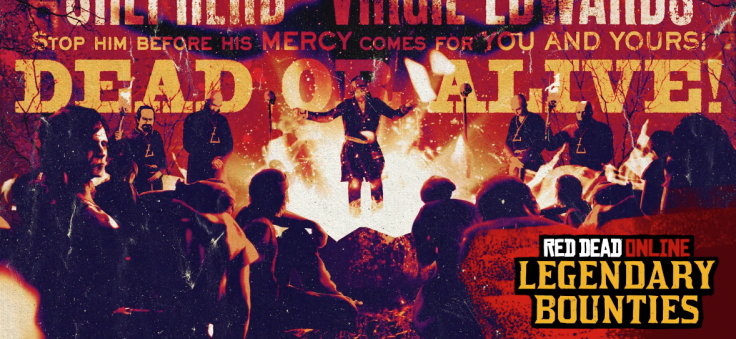 It's said that they practice what's called The Mercy. This is a ritual bloodletting, which they hope would lead them to rapture. They have managed to lay low while The Shepherd's sermons have grown influential.
To start the hunt, Bounty Hunters need to have a Prestigious Bounty Hunter License.
Bounty Hunter Bonuses
So, why would you take on such a dangerous task against The Shepherd or even other targets? This week Bounty Hunters, along with Prestigious Bounty Hunters, get double XP. It's not limited to taking down Bounty Targets. It also applies to the Bounty Hunter Free Roam Events.
Bounty Hunters who are high-level enough can take on different Infamous Bounty mission sequences from each of the 13 Bounty Boards. All feature a three-part mission that can be done solo or with a Posse.
Enjoy the Sale
It won't be a holiday celebration without the sale, and it's a good week indeed as even Cripps at the Wilderness Outfitters is in a festive mood. They're offering a 30% discount on items from Camp Themes and all the way to canine companions.
There's also the 5 Gold Bars off the Butcher Table and 10 Gold Bars off the Moonshine Shack. Get to enjoy a 30% discount in all Trader Wagons, all Moonshiner Items, and Shack Upgrades as well.
The Wheeler, Rawson & Co. Catalogue, Bandoliers, and Ponchos are being offered at 30% off with all Shotguns being sold at 40% off. Stables, on the other hand, are offering a 30% discount on all Arabian, War, Work, and Race Horse breeds.
Prime Gaming
Of course, it won't be complete without the offers for Prime Gaming. This week, members get a free Bounty Hunter License along with an Award for the Trimmed Amethyst Bounty Wagon Livery. Plus, players who connected to Prime Gaming before January 18 get to receive a Reward for a Free Ability Card Upgrade and an Offer for 50% off a Weapon Pamphlet at the Fence.
There's no question this is a good time to be at the frontier.