Year 6 Season 1 of Rainbow Six Siege is only a few weeks away. Operation Crimson Heist will bring the game's first Argentinian operator, Flores, along with a map rework of Border. Flores is a modern-day robin hood who steals from the rich and gives to the poor, and he relies heavily on explosives.
Attacker Flores
Flores has access to drones that are strapped with C4. His gadget is called RCE-Ratero and he has four of those, along with two normal drones. The moment Flores deploys his gadget a countdown will start. After the countdown ends, the drone will explode and destroy other gadgets and soft surfaces nearby.
Since the gadget acts as any other drone, it can be shot by defenders. It is also vulnerable to Mute Jammers, Mozzie's Pests, and Electrified Barbed Wire. Players can also NOT slow down or reverse the drone. It will be at full speed ahead once deployed.
However, the player can decide to detonate the gadget prematurely. Doing so will cause the drone to stand still and reinforce itself, which means it can't be destroyed. Defenders will have 2.5 seconds to get away from the device. The drone also has a very distinct noise and will show an icon to defenders when it's nearby.
Getting a kill with RCE-Ratero may be difficult but it's a great gadget to destroy tons of defender utilities.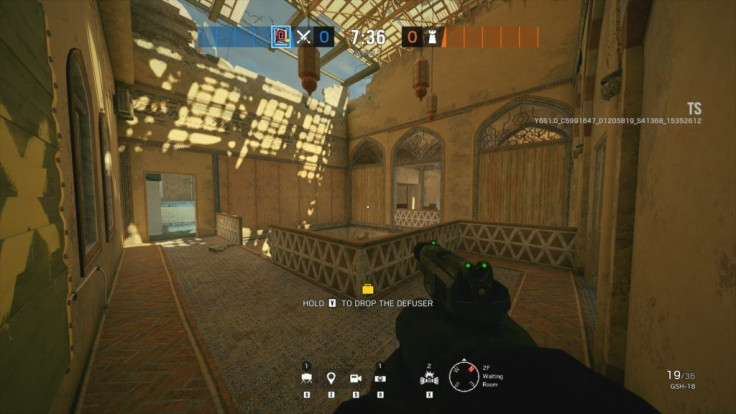 Border Rework
No new map this year, let alone this season. Crimson Heist will simply bring a rework of the age-old map Border. Though it is not as extensive as the rework of Skyscraper or Hereford Base.
The Archives Room on the second floor is extended to allow more room for defenders.
A new path is added between East Stairs to Break Room. This will make flanking easy for defenders.
A new staircase is added to the outside of the map that will give easy access to the Archives Room and Offices. Less dying while rappelling but be careful of C4s.
Crimson Heist is currently live on the Test Server, which means that you can try out the new operator and the new map.
Feel free to check out our previous article about the Year 6 Roadmap for more information about upcoming seasons.
So what do you think? Are you excited about the new operator? Do you like the Border rework? Let us know your thoughts in the comments section below.