PUBG revealed that it is currently testing out the Motor Glider in the PUBG Labs. The Motor Glider lets you fly in the air and drop on your enemies. It's going to be available at the PUBG Labs beginning December 20 at 2:00 a.m. EST until December 23 at 2:00 a.m. EST.
PUBG Labs was announced in November and gives players a way to test things outside of the usual testing environment. This feature doesn't replace the Test Server, though, which remains to be the way to test normal content updates. You can read more about PUBG Labs here.
The Motor Glider transports you and a squad mate in the air and lets you get to the far side of the circle in no time. In order to take off you need to reach speeds of 70 KPH, or around 43 MPH. Once you reach the necessary speed, use the sticky throttle in order to lock in your forward acceleration. Be careful of the rotor, though.
While you're in the air, be sure to make the best of the high ground advantage. Whoever is the passenger can rain both bullets and molotovs down on enemies. While the engine can be destroyed, the wings of the glider can also take damage, though it's less than what the body can take. In addition, it's worth noting that the tires can't be damaged. That means you can still move even if the engine is disabled.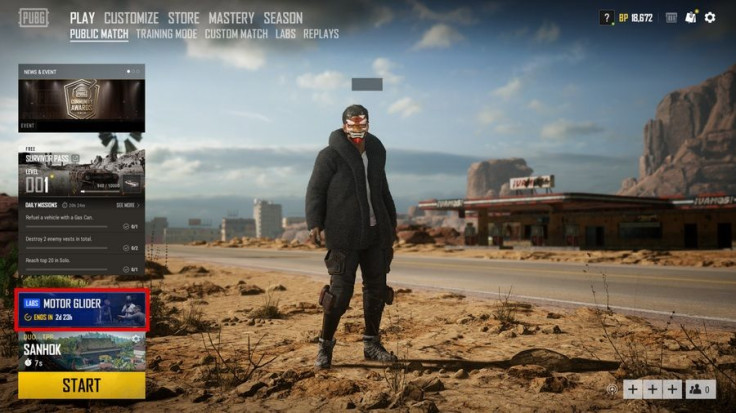 Below are the specific mechanics of the Motor Glider:
Motor Glider offers two seats

One for pilot
One for passenger

Passenger can shoot and use any weapon from the backseat

Motor Glider is spawned around the map
To takeoff, you must gain the necessary speed of 65 km/h then pitch up with the S key.

You'll start to take off automatically once you hit 70 km/h.

Motor Glider's fuel consumption rate is tied to the engine speed – the more throttle you apply, the faster you run out of gas.
There's no maximum altitude you can reach.

The engine starts losing power the higher the altitude you are at.

Controls:

Use W/S keys to control the pitch
Use A/D to control the roll of the aircraft
Adjust the throttle by holding Left Shift and Left Ctrl keys
Hold Spacebar when on the ground to engage handbrake

Period: Dec 20 2:00 AM EST – Dec 23 2:00 AM EST
Perspective: TPP/FPP
Mode: Squad
Map: Erangel, Miramar
Maximum Player: 80
How to join: Click the banner on the left bottom above the 'START' button
Go ahead and give this one a try.