Having revealed the RTX 30 series gaming GPUs, Nvidia now focused its attention on workstation users with the all-new RTX A6000 GPU. The RTX A6000 is one mean beast of a graphics card. It is built on the GA102 Ampere architecture. That means massive computational power to drive AI applications and heavy content creation.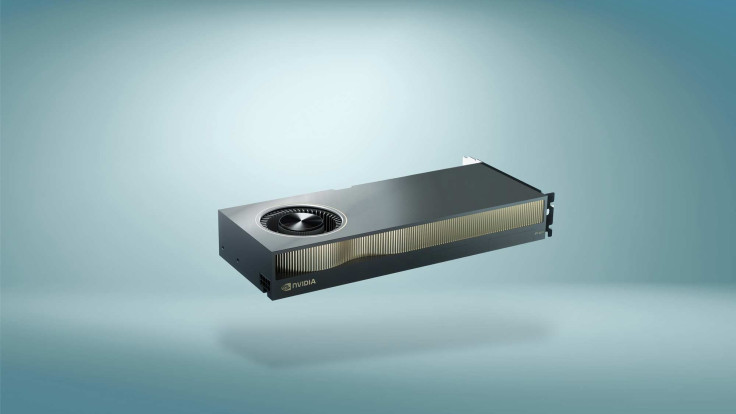 RTX A6000 Specifications
Nvidia is planning to release two workstation GPUs, one of which is the RTX A6000. RTX A6000 has a full-fat GA102 GPU architecture. While the other one, RTX A40, was built on the GA104 GPU architecture. Unlike the RTX 30 series GPU, the RTX A6000 sports insane technical specifications:
GPU Memory: 48GB GDDR6 memory with error-correcting code (ECC)
Display Ports: 4x Display Port 1.4
Max Power Consumption: 300 W
Graphics Bus: PCI Express Gen 4x16
RTX A6000 Professional Features
The RTX A6000 is said to offer top-of-the-line features, including:
Multi-Display Support: The GPU will easily help in setting up cave automatic virtual environment (CAVE), video walls, and support for multiple 8K monitors.
Multi-GPU scalability: With NVLink, users can connect two RTX 6000 GPUs that can deliver 96GB of GDDR6 memory and a whopping 112 gigabytes per second of bandwidth.
Besides these, the GPU also supports other technologies like Quadro sync, dedicated video encode and decode engines, and full VR support. There's also a plethora of productivity tools, enterprise drivers support, and Nvidia Broadcast.
The Nvidia RTX A6000 is currently available for $4650 through OEM partners. It's interesting to see that just like the RTX 30 series GPUs, the RTX A6000 is also retailing at a lower price than the Quadro RTX 8000, which launched at a massive price tag of $10,000.