Developer BetaDwarf added two new cards to Minion Masters, courtesy of Update 1.46. The new cards in question are Rendrath the Deathless and Ghast.
Rendrath the Deathless is a new legendary card in Minion Masters with a special effect where enemies that he attacks are inflicted with Rendrath's Mark. When these enemies are killed, they become subservient minions he can control. The minions only have 50% of their max HP and damage, so they're less powerful than their original forms. They are also cursed, meaning they lose 3% health every second. Nevertheless, they're still impactful and can potentially change the tide of battle.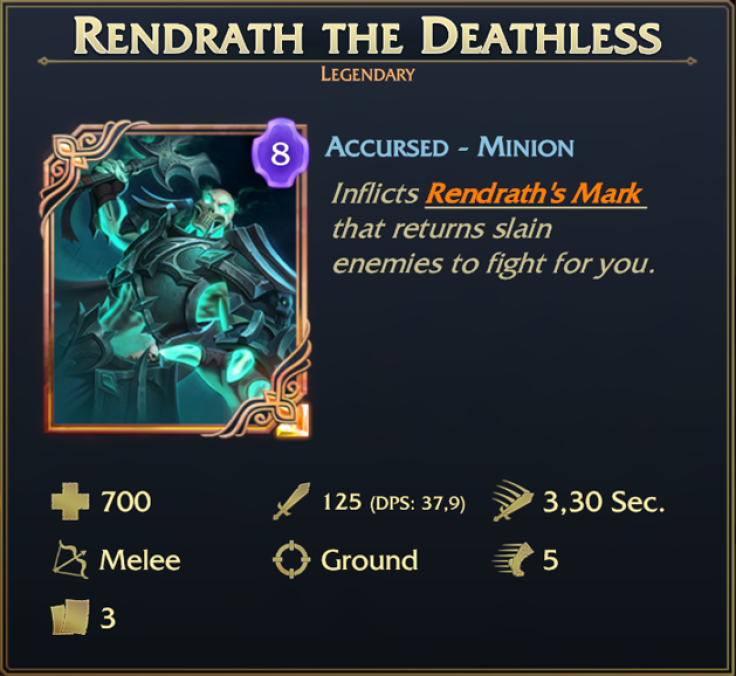 Following the theme of bringing loyal minions to life, Ghast is another new card added in Update 1.46 having a similar ability. When an enemy minion dies nearby, this card raises a skeleton from its corpse to aid players in battle. This effect has a five-second cooldown.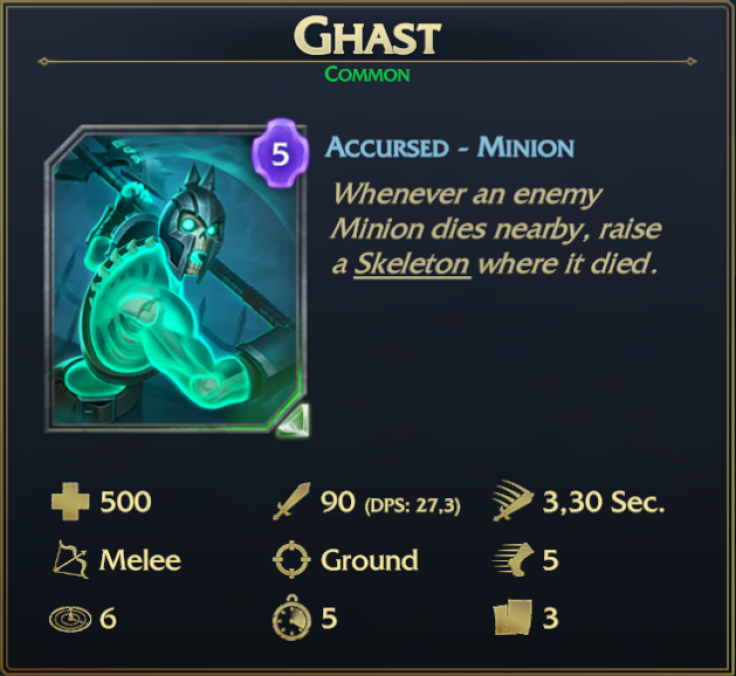 Patch Notes
BUFFS
Valorian
No longer heals team mate Minions

Perk 2 healing 15 > 20
Arcane Bolt
Kill threshold: 400 > 450
Bazooka Scrat
Bounce Berry Flingers
Frozen
Duration 3 > 4

Note: Most cards using the Frozen mechanic are underperforming, and at 3 seconds the mechanic seems a little underwhelming and uninteresting.
Idol of Sacrifice
Gains Haste instead of Rage
Gor'Rakk Gate
Elite Swarmer > Flightless Dragon

Note: It is now less punishing in terms of health lost when you get this option and their offensive output is significantly higher, so this should result in a sizable buff. However, whether it's actually easier to gain the needed value from playing the card remains to be seen.
Spelldancer
Arcane Spheres 2 > 4

Mark an area and fire sparks 1 at a time at the area
REBALANCE
City Watch
Mana 5 > 6

Leggo count 0 > 1

Xbow Dude count 3 > 2

Removed from random pool
Magnetic Bombs
Moves faster over time, starts at 4 > 16 (hits max speed at opponent tower)

Damage 80 > 90
Toll of the Dead
Unholy Ground
Spawns 5 Skeletons over the duration

First Skeleton spawns immediately

Only Spawns skeletons when there is an enemy in the area

Also immobilize ground Minions

Duration 10 > 7

Accursed Ascension: +3 seconds, +3 skeletons
NERFS
Arcane Barrage
Mark an area and fire sparks 1 at a time at the area.
Avea
Chain Lightning
BUG FIXES
Fixed Flightless Dragons occasionally not gaining rage when behind on health.

Fixed units spawned from Blind Date occasionally trying to ascend to a higher plane of existence

Fixed ground melee minions affected by Net Blaster suddenly being able to attack flyers.

Made Spelldancer's barrage area indicator only appear when she would activate.

Removed Apep's swirling projectiles.
Minion Masters Update 1.46 is available on Xbox One and PC.