The latest Sony offering on PC is less than 24 hours away. The spin-off game Marvel's Spider-Man: Miles Morales will be available on both Steam and Epic Games Store starting tomorrow.
The developer has revealed the exact time the game will unlock. Unfortunately, you won't be playing it at midnight today because US players will only be able to at 8 a.m. PST or 11 a.m. EST. Global launch times are also detailed in the below image. If you want to convert specific regional times, you can use this.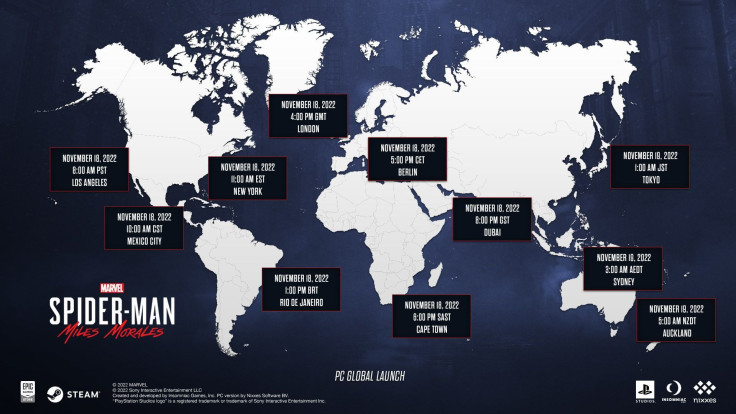 Pre-Loading
We suggest you start pre-loading the game right now so that you can play it the instant it becomes available. Keep in mind that only users who have pre-ordered the game can download it in advance. Pre-ordering also gives some extra rewards and early in-game unlocks. Check out our previous article for more information.
Future PlayStation Games on PC
Marvel's Spider-Man: Miles Morales isn't the only confirmed Sony game coming to PC, with the next PlayStation title on the slate, The Last of Us Part 1. The remake has already been released on PS5 and is confirmed to be in development for Microsoft Windows. However, no release date has been provided, so we are guessing it's coming to PC next year.
PC players have several more games to look forward to. It's very likely that Returnal, a PS5-exclusive title, is coming to Windows. It may not have been officially confirmed but there's a gigantic amount of proof of it happening. Other games like Ghost of Tsushima, Gran Turismo 7, and Demon's Souls are also expected to arrive on PC.
Previously Released PlayStation Games on PC
If you have missed previously released Sony games on PC, we recommend you try them out. This year alone, we received God of War (2018), Marvel's Spider-Man Remastered, Uncharted: Legacy of Thieves Collection, and Sackboy: A Big Adventure. We expect the next year to be even bigger. I am hoping for The Last of Us Part 2 and Horizon Forbidden West.
So, what do you think? Are you interested in playing Marvel's Spider-Man: Miles Morales on PC? Have you been playing it recently? Let us know your thoughts in the comments section below.