Mako the Shark is joining the fight in Brawlhalla and is more than ready to take a bite out of her enemies. Mako is the 51st Legend to join the roster. Mako is available for 7200 Gold and come with a choice for three skins which are:
Hammerhead Mako

Available for 140 Mammoth Coins

Abyssal Goblin Mako

Available for 140 Mammoth Coins

0RC4-M4k0

Available for 200 Mammoth Coins
So who is Mako really? Mako is the daughter of Poseidon. When Poseidon was struck down by Zeus in the Great War of Atlantis, she launched an all-out attack to prevent Atlantis from falling into the hands of Zeus. However, the attack was so terrible that the sorcerers of Atlantis made the decision to sink the city in order to save it from being totally destroyed. While Mako now serves as the queen of this underwater city, she continues to prefer fighting instead of ruling.
Mako brings with her a Greatsword and Katars to destroy her enemies. These are the signature attacks of these weapons:
Greatsword Signature Attacks

Neutral Signature – Mako swims in a circle for a second, then leaps out of the water diagonally to chomp and spike the opponent down.
Side Signature – Mako rides a wave on her Greatsword, using it as a surfboard, then on-hit jumps and slices her enemies.
Down Signature – Mako jams her Greatsword into the ground, making waves erupt out on either side to knock enemies away.

Katars Signature Attacks

Neutral Signature – Mako swims, jumps straight up to get a big bite out of the enemy, and then spikes them down.
Side Signature – Mako swims forward, then leaps out of the water and slices with her Katars.
Down Signature – Mako spins up a little hurricane and can travel forwards or backwards to knock her enemies away in all directions.
Be Heard
There's no question that November 3 is going to be an important election in the US. In a post, Blue Mammoth Games said that its "community is bigger than you think, and frankly, it's well about average in intelligence." Blue Mammoth went on to say that "it's important we vote."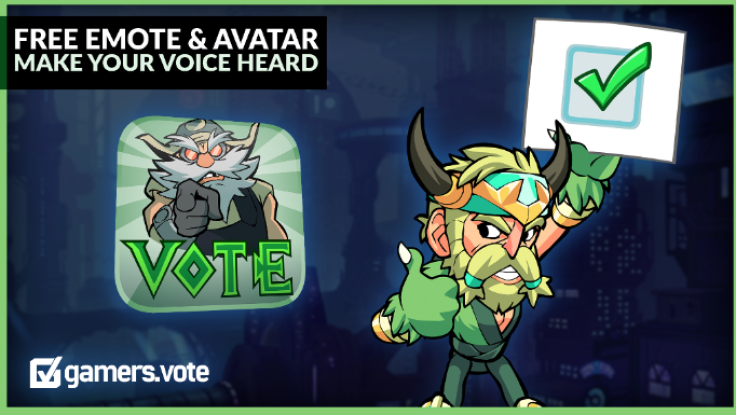 Starting October 1 and until November, Brawlhalla is giving away the exclusive Vote emote and Vote avatar to players that take the time to learn how to vote. For those who do intend to vote, it's also time to make a plan about how you are going to do it. Learn more about it here.
For those who are under 18 years old or can't vote in the US, they still get the emote by just learning. What are you waiting for? Learn and be heard.