Valorant has officially been launched and it comes as no surprise that its first ever Battlepass is here. Like any Battlepass, there's a free version and a Premium one. The only difference between the two is that Premium track offers more rewards. Riot Games guarantees that there's going to be no pay to win mechanics involved in the Battlepass.
Here's how it's going to work. Valorant is going to offer Episodes, with each having a number of Acts. For each Act players get a Battlepass and each one lasts for around two months. A Battlepass offers 50 tiers and is free by default. In addition, the Battlepass is going to be active alongside the chosen Character contract and progress simultaneously based on the XP earned from Missions and matches.
Still on the Battlepass, it's going to have 10 Chapters which each Chapter having five Premium tiers while also handing out a free Chapter completion reward once unlocked. A Chapter is considered as complete once all five Premium tiers are unlocked using XP. Once the free Chapter completion reward is received players can then proceed to the next Chapter.
Even without the Premium track, players can go through the 10 Chapters, but they won't be able to unlock the five items. If at any point a player decides to go Premium, it will retroactively unlock the rewards earned while on the free path.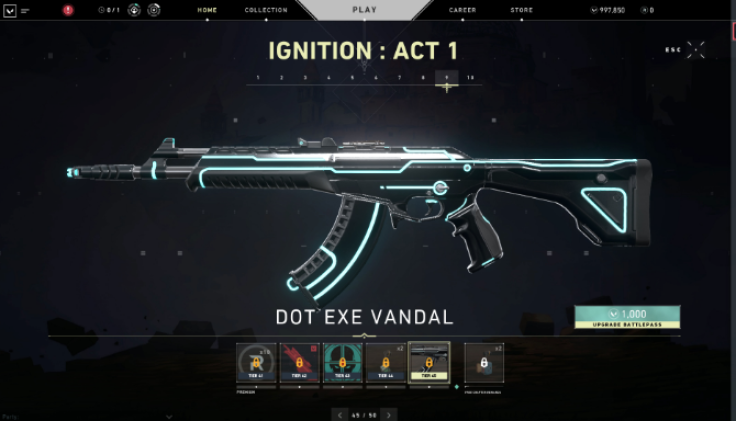 A Battlepass wouldn't be complete without rewards and in this one players can get weapon skins, player cards, gun buddies, sprays, and titles. The Free path also gets these reward types along with the "Kingdom Classic" sidearm skin once Chapter 10 is completed. For those who have Premium, they get the "Kingdom Melee" skin at the end of Chapter 10.
Players need to remember that once a Battlepass expires, all progression is going to be locked and won't be available anymore. However, it also means a new Battlepass with new rewards has begun. Future versions of the Battlepass are going to have different content and rewards.
In a post, Valorant Game Designer David Cole said that the "current plan is for content to be exclusive to the Battlepass it's released in." However, the team is not closing the door completely when it comes to accessing older Battlepass content. Cole confirmed that if they are going to "introduce a way to acquire Battlepass content from the past, it will be much harder to acquire."