The Last of Us Part 1 will finally hit PCs in less than three weeks. The remake of one of the best PlayStation games will launch on Steam and Epic Games Store March 28. The PC version boasts several improvements over the PS5 one, including support for various technologies.
PC Features
Upscaling techs like AMD FSR 2.2 and Nvidia DLSS are supported, along with support for 21:9 ultrawide and 32:9 super ultrawide monitors. PC players can expect VSync, frame rate cap, and multiple customizable graphics options. Settings like texture quality, shadows, and reflections, ambient occlusion are tweakable. 3D audio for headphones is also supported.
The game supports M/KB with primary and secondary keybinding, just like any respectable PC port should. A wide range of controllers, including DualShock 4 and DualSense, are also supported. An adaptive mode that allows players to combine keyboard and controller inputs is included as well.
Speaking of DualSense, PC players can experience adaptive triggers and haptic feedback via a wired connection. That also means they won't work when the controller is connected wirelessly.
System Requirements
The developer also revealed the system requirements of The Last of Us Part 1, and they are similar to what we expected. The only thing that sticks out is the 100 GB of SSD space, which means HDD users would be left behind. Windows 10 64-bit version 1909 or above is a must as well.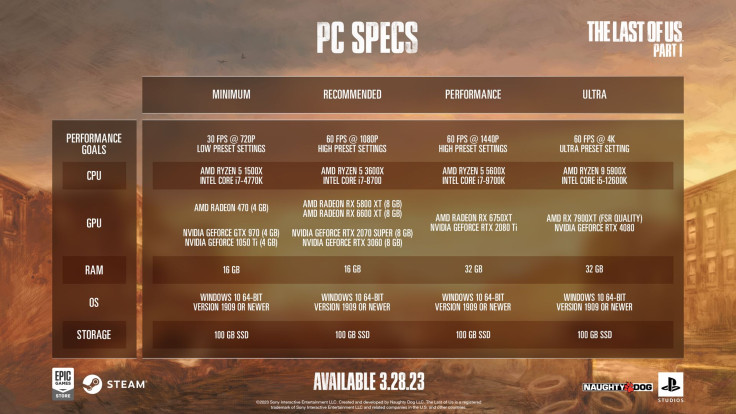 You can read the official blog for more information.
The Last of Us Part 1 is the last Sony game, as of right now, to have been officially confirmed for PC. However, we are sure more Windows ports are on the way. According to the Nvidia GeForce leak, which took place in 2021, PC ports of Ghost of Tsushima, Demon's Souls Remake, and more are in the works.
So, what do you think? Are you interested in playing The Last of Us Part 1 on PC? Which other Sony game do you want on the master race next? Let us know your thoughts in the comments section below.