Hitman 3 announced that it's now accepting pre-orders for both physical and digital copies. The game is set to be released on January 20, 2021. It's going to be available on PC, PlayStation 4, Xbox One, and Google Stadia.
Versions for the next-gen consoles PlayStation 5 and Xbox Series X/S are planned as well. Hitman 3 is also arriving in the Nintendo Switch and playable through cloud streaming technology.
Different Editions
Developer IO Interactive revealed that the game is releasing in two editions. The first is the Standard Edition that offers the base game. The second is the Deluxe Edition that includes the base game plus the Deluxe Pack.
The Deluxe Pack offers:
Digital Soundtracks
Director Commentary Mission Introduction
Digital Book: The World of Hitman
Deluxe Suits & Items
Deluxe Escalations
Pre-order Bonus
Aside from getting a reserved copy before the actual release, there's a little something for those who pre-ordered. The bonus celebrates the World of Assassination trilogy with the Trinity Pack. This pack is available regardless of platform or edition.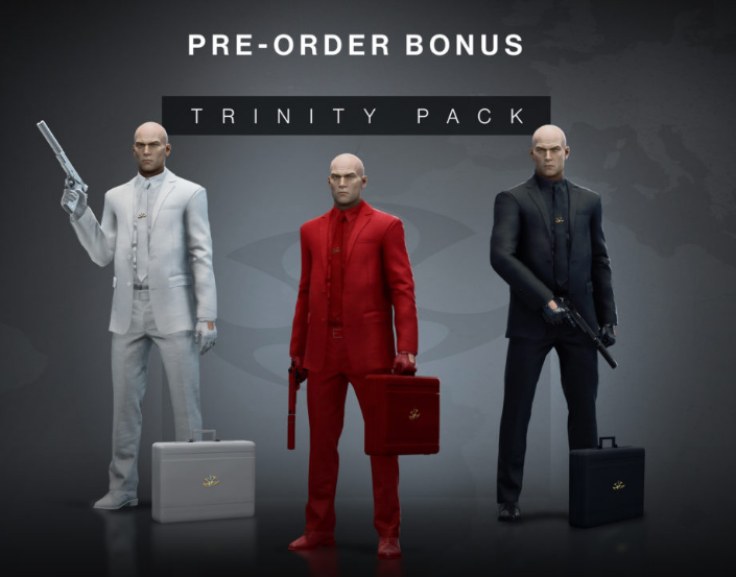 The Trinity Pack brings to the game a total of nine items. They are divided into three unique sets that represent each game of the trilogy. Each set has its own suit, briefcase, and of course, weapon. There's the White of Hitman 1, Red of Hitman 2, and Black of Hitman 3. The sets themselves aren't exclusive. That means players can mix and match them as they like.
The sets have the classic Hitman insignia etched in gold for added elegance.
Physical Pre-order
IO Interactive also noted that those who pre-order the physical edition will get an exclusive physical passport. It's a unique item that has details and references from the rather illustrious career of Agent 47 and commemorates two decades of the franchise.
This collector's item is available from these retailers:
USA (Limited Run Games, Deluxe Edition exclusive)
UK (Game)
Ireland (GameStop)
Italy (GameStop)
Belgium (Game Mania, Smartoys, Playerone)
Netherlands (Game Mania, Nedgame, Allyourgames)
Germany (GameStop)
Austria (GAMESONLY, GAMEWARE)
Switzerland (GAMEWARE)
Sweden (Spel & Sant)
Spain (GAME)
What are you waiting for? Pre-order the game here.