If you're one of those adrenaline junkies who's not afraid to defy gravity and even death, then this is a good time for you in GTA Online. That's because this week is all about stunts. Players who manage to finish any five Stunt Jumps across the map get a GTA$500,00 bonus.
Over on Drop Zone, everyone has the chance to grab triple GTA$ and RP. Here, players need to put on a parachute and jump from a chopper. Upon landing, the goal is to hold the Zone against enemies who are also dropping in the area.
Speaking of parachute dropping skill, Parachuting Jobs this week have players earn twice the GTA$ and RP. To get access to these, just go to any Parachute marker on the map or go to the Jobs list and pull up the Parachuting Jobs.
As a bonus, all Parachutes, Parachute Bags, and Parachute Smoke options are free for the entire week.
For those who want something that's on the ground, Biker Sell Missions and MC Work & Challenges are paying out double rewards.
Now all of this talk about jumping in the air and roaring on the road is sure to stress anyone. Well, this week the top prize in the Lucky Wheel is back. Simply head over to The Diamond Casino & Resort and give it a spin. Expect the usual prizes like GTA$, RP, clothing, and even mystery items. But the top prize this week is the Itali RSX, which is sure to get all sorts of reactions.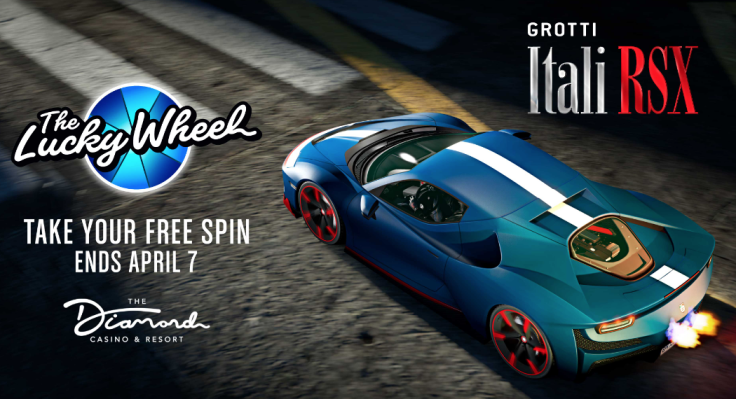 Discounts
For this week, several excellent discounts are being offered. Enjoy a 40% discount on these goodies:
All Garages
All Hangers, Add-Ons, and Modifications
Invetero Coquette D10
Grotti Visione
Nagasaki Outlaw
Karin Sultan Classic
Dinka Sugoi
Buckingham Maverick
Buckingham Howard NX-25
Western Company Annihilator Stealth
Buckingham Vestra
Buckingham Valkyrie
Wester Company Cargobob
Prime Gaming
GTA Online players who connect their Rockstar Games Social Club account to Prime Gaming get the Kosatka submarine's Sonar Station for free. They also get GTA$200K by simply playing anytime this week.
For this week as well, Prime Gaming members also get to enjoy these exclusive discounts:
80% off the Annis Savestra
35% off the Vapid Slamtruck
40% off the Maibatsu Manchez Scout motorbike
PS Plus Members
PlayStation Plus members playing GTA Online on the PlayStation 4 continue to get GTA$1 million each month until the PS5 version is released. Moreover, they no longer need to wait 72 hours for the amount to enter the player's Maze Bank account.