This week in GTA Online, players get to enjoy several events that are offering double rewards. One of these is the Arena War Series which is handing out double GTA$, RP, and Arena Points. This is offered on all game modes from Bomb Ball and all the way to Wreck it.
That's not all as this week, those who own an Arena Workshop can add Vertical Jump ability to any of their vehicles for free.
Speaking of free items, this week all GTA Online players can get the Brute Heavy Duty Tee by simply playing the game.
Other Double Rewards
So what else is happening this week? Players who finished several Vehicle Cargo Missions now have a chance to diversify their revenue streams. To do it, simply go to the SecuroServ computer and take on the Special Vehicle Work. It's also giving out double GTA$ and RP.
Handing out GTA$ and RP this week as well is Rhino Hunt. In this mode, hunters are inside off-road vehicles and only armed with Sticky Bombs. The hunted, meanwhile, are inside armored plated tanks and need to survive three minutes to win. Then again, no matter who wins, both sides get double rewards.
Lucky Wheel
Like any week, don't forget to stop by The Diamond Casino & Resort. Take the time to spin the Lucky Wheel and win different prizes like GTA$, RP, and clothing. For this week, the top prize is the Pfister Comet SR, a sports car that has carbon fiber spliced to its DNA.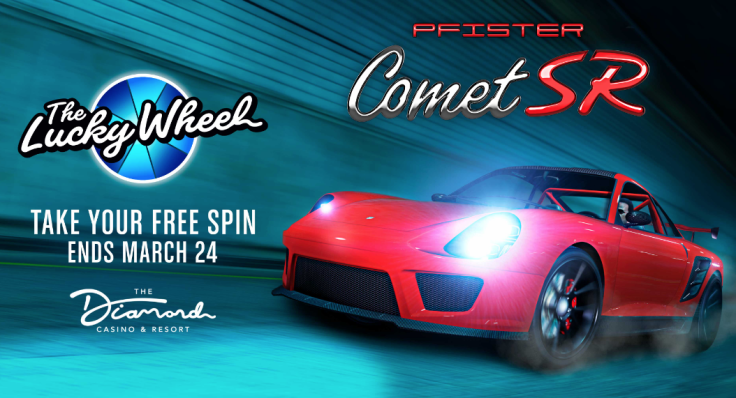 Discounts
For this week, players get to enjoy these discounts:
Arena Workshop, Upgrades, and Modifications (40% off).
Declasse Tulip (40% off).
Benefactor Schlagen GT (40% off).
Schyster Deviant (40% off).
Weaponized Dinghy (40% off).
Mammoth Squaddie (40% off).
Arena Vehicle Weapons, Armor Plating, Boosts, and Bodyworks (30% off).
Arena Annis ZR380 (all styles) (30% off).
Arena Western Deathbike (30% off).
Arena HVY Scarab (30% off).
Arena Bravado Sasquatch (30% off).
Arena Vapid Slamvan (30% off).
Arena Declasses Impaler (30% off).
Prime Gaming
We end this week's update with offers for Prime Gaming members. As always, members get GTA$200K and the Kosatka submarine's Sonar Station for free. They also get additional discounted items which are:
35% off the Sparrow helicopter.
35% off the Kraken Avisa submersible.
80% off the amphibious Seabreeze plane.