A criminal empire isn't entirely about thugs, though it helps. This week, GTA Online is honoring the movers and shakers of the underworld. That's right, it's all about the modern executive.
There's no question that white-collar criminals continue to get a bad rep, even today. This is mainly because they remain to be the target of the rather unruly underclass. In times like these, it's always good to get some hired help. That's why this week Associates and Bodyguards get the chance to earn Tripled Salaries. There's also VIP Work and Challenges, which are going to hand out Double Salaries.
All Contact Missions this week are also going to be giving out Double GTA$ and RP. Meanwhile, Open Wheel Racing, which is a high-speed, high-risk, and high-reward event, is dishing out Triple Rewards. All of these are available until April 29.
For those who want to take it a bit slow, just head on over to The Diamond Casino & Resort and try a hand or two at the tables. Those feeling a bit lucky can give the Lucky Wheel a spin in order to win cash, RP, clothing, and accessories. However, the top prize for this week is what many in street racing call the holy grail. It's none other than the Karin Sultan Classic. In addition, it's been wrapped in its very own Karin Performance Livery.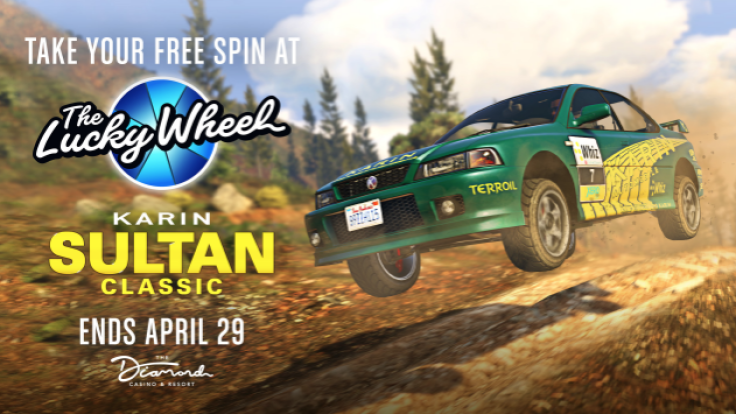 Being an executive is a full-time job. It's not just about the job though, as there are also the many status symbols to keep up. Not to worry as there are excellent offers and discounts available this week, geared specifically to the upper 1%. The Ocelot R8 is available at 25% Off while the Armored Karin Kuruma is offered at 70% Off.
It's not just about vehicles since there are also Executive Offices & Real Estate offers this week. These include:
50% Off Executive Offices

Maze Bank West
Arcadius Business Center
Lombank West
Maze Bank Tower

60% Off Executive Office Customizations

Interiors
Organization Name Change
Money Safe
Gun Locker
Accommodation

50% Off Office Garages and Office Garages Custom Auto Shop
50% Off Large Special Cargo Warehouses

Wholesale Furniture
West Vinewood Backlot
Xero Gas Factory
Logistics Depot
Bilgeco Warehouse
Walker & Sons Warehouse
Cypress Warehouses
Darnel Bros Warehouse

60% Off Office Garage Customizations
Like with the usual weekly update, Twitch Prime Discounts are offering 80% off the Buckingham Luxor and Buckingham Luxor Deluxe. These discounts are for those who have their Rockstar Games Social Club account linked with their Twitch Prime.