GTA Online takes to the skies this week as players can rack up triple rewards for aerial combat modes. There's also going to be aerial-themed discounts available plus a little something for those who prefer to be on the ground. There's a ton offered this week and we look into them one by one.
This week's Triple Rewards are offered for those who take part in three aerial combat modes. The first is Stockpile, where the skies above both Los Santos and Blaine County have been scattered with contrails as well as red hot lead. All that players need to do is simply go into the cockpit, retrieve loot, and then return it to their own base.
Air Force Zero is also giving out 3X GTA$ & RP. Just go to the Jobs menu, select Versus option, and then attack or protect the target. The same is offered in Top Fun, where players need to get inside a Lazer jet and gun down a group of runners.
Before we go to what else is offered this week, let's look at what's available at The Diamond Casino & Resort. The Lucky Wheel is offering the usual prizes, but this week the top prize is the Imponte Deluxo. The chance at the Deluxo is available until April 15.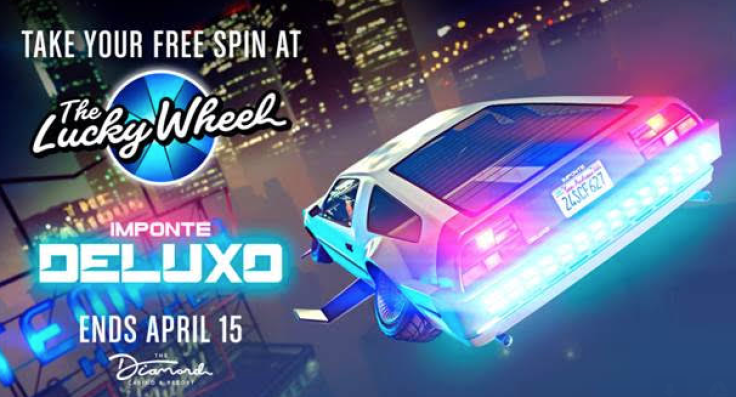 Now that we have that out of the way, any Smuggler's Run Sell Mission is paying double until April 15.
GTA Online is also giving a one-time gift of GTA$500,000 for the entire month for those who play the game. This reward is immediately sent to the player's Maze Bank account within seven days.
That's still not enough. Beginning today until April 16, Daily Objectives are going to pay extra. Those who manage to complete 10 of them within the week not only get an extra GTA$1,000,000, but also a J Lager Beer Hat for free.
As mentioned, most of the discounts offered this week follows an aerial theme. These are:
60% Off Hangers, Hangar Modifications & Add-Ons

LSIA Hangar A17
LSIA Hangar 1
Fort Zancudo Hangar 3499
Fort Zancudo Hangar 3497
Fort Zancudo Hangar A2
Hangar Styles
Lighting
Floor Graphics
Office Furniture
Living Quarters
Workshops

50% Off Buzzard Attack Chopper
60% Off P-996 LAZER
If you're not comfortable high up in the air, you can stay grounded and go to Legendary Motorsport to grab two of the most sought-after models in Los Santos:
Principe Deveste Eight – 50% off
Benefactor Schlagen GT – 50% off
Finally, we go to Twitch Prime Discounts offered this week. This is for those who link their Rockstar Games Social Club and their Twitch Prime. For these players, they get a 75% discount on all styles of Arena Annis ZR380 and MTL Cerberus.