GrandChase Classic, the fun 2D side-scrolling action RPG developed by KOG, received a new update recently that invites players to a new event, where raising their Battle Power rewards them with amazing goodies.
Raise Your Battle Power Event
The newest event in GrandChase Classic is simply called "Raise Your Battle Power." As the name suggests, players who spend time increasing their Battle Power will be rewarded for their efforts.
First of all, players who log in for at least 30 minutes will receive rewards for 15 days, including a Chase Point Reset Card, Advanced Reinforcement Protection Scroll, and Advanced Summon Chest, among others.
Now, those who want to raise their Battle Power can complete the new missions in the lobby. They are given goodies upon reaching certain Battle Power thresholds, such as a Premium GC Club, GP Random Prop Form, Advanced Rune Summon Chest, Bonus Recharge, Ring of Beefiness (1 Day), just to name a few.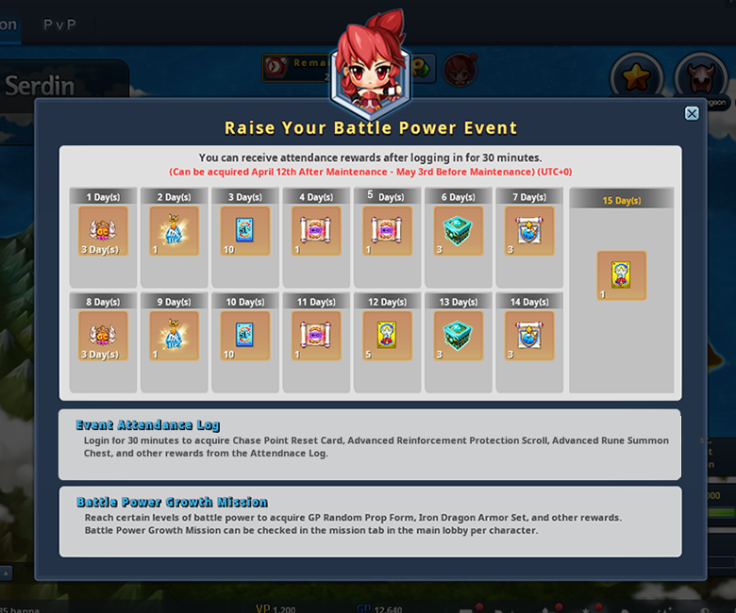 Those who take on the more challenging veteran missions are going to get even better rewards like the Single Property Scroll (Lv.85), Premium GC Club, GP Random Prop Form, Advanced Rune Summon Chest, Lisnar's HP/MP Potion, and Bonus Recharge.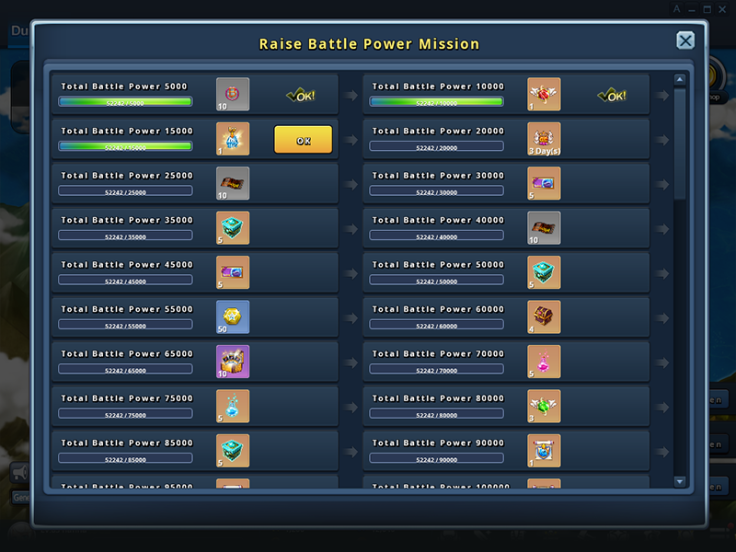 This event is now live and will last until May 3.
Balancing Changes
The latest update also brought balancing changes. According to the company, there is a big gap in damage between characters, so much so that GrandChase players no longer want to try out other characters in-game.
After reviewing the usage rate and how fast each character can clear major dungeons, the company increased the power of underperforming abilities, with some of them noted below:
Elesis
[Sword Fire Lv3]

[Compact Slash]

[Blade Beam]

[Fated Circle]

[Meteor Slash Lv2]

[Fire the Lance]
Lire
[Fan Shot]

[Arrow Rain]

[Trap Shot Lv3]

[Blood Rain]

[Arrow Storm]

[Meteor Strike]

[Stardust Rain]

[Demi Shock]

[Guardian Attack Lv1]

[Harpy Hunt Shot]

[Chakra]

[Special] Catastrophe
Arme
[Petrify Lv1]

[Ring of Holding Lv1]

[Debilitating Aura]

[Fear Lv1]

[Wall of Ice]

[Frost Ring Lv1]

[Bomb Drop]

[Tornado]

[Wall of Fire]

[Ice Ball]

[Lightning Bolt]

[Frost Pillar]

[Booby Trap]

[Blizzard]

[Air Blast]

[Special] Electric Spark
Ryan
[Twin Blade Lv1]

[Twin Blade Lv2]

[Twin Blade Lv3]

[Leeching Slime]

[Boulder Crash]

[Freezing Attack]

[Backspin Slash]

[Nature Frenzy]

[Gatling Spiral]
Sieghart
- [Boomerang Swing Lv1]

- [Boomerang Swing Lv2 (Rage)]

- [Flame Sword Lv1]

- [Phantom Rush Lv1]

- [Phantom Rush Lv2]

- [Flame Sword Lv1 (Rage)]

- [Fire Blaster]

- [Fire Blaster (Rage)]
The full list of changes can be found on Steam.
GrandChase Classic is available on PC.