Fortnite Battle Royale Season 3 is almost here, and Epic has revealed new details about the incoming free content drop. An official blog post outlines everything we know ahead of release.
For those unfamiliar with the Battle Pass, it's a tiered progression system of free cosmetics that can be purchased with in-game V-bucks. If you want your hero in Battle Royale to have cool outfits, pickaxes or emoticons, that's how you get them. Unlike previous Battle Passes purchased with real money, this season of content only unlocks in-game. That means you'll have to play the paid Save The World campaign or use leftover V-bucks to join the release day festivities.
In addition to making Fortnite's next Battle Pass a free item, it also comes with 30 more tiers of loot. Even with the increase in content, though, players can expect to unlock everything within the standard 75 to 150 hours of play time. Here's a full breakdown of the new cosmetics.
Six outfits
Three Pickaxes
Four Emotes
Three Gliders
Three Back Blings
Five Skydiving FX Trails
Eight Loading Screens
23 Banners
21 Emoticons
That's a total of 76 items, compared to the 46 cosmetics found in Season 2. The Battle Pass costs 950 V-bucks to purchase on its own, but Epic is also advertising a brand-new Battle Bundle for 2,800 V-bucks that offers instant access to the first 25 tiers for a 40 percent discount.
Beyond offering Battle Royale players lots of skins for very little in-game money, the Season 3 Battle Pass also introduces new types of rewards and ways to unlock them. Back Blings, Skydiving FX and loading screens, for example, have never been available to unlock before. Back Bling refers to unique cosmetics worn by Save The World Heros. Those who want to compliment their look with Raptor's trademark backpack will soon have that option.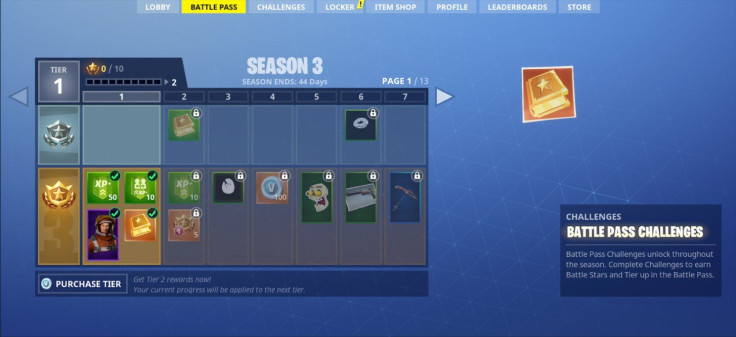 Unlocking these perks takes serious time, but the inclusion of stackable, persistent Weekly Challenges further lightens the load. Contrary to the short-term goals of Season 2, these milestones unlock each week and can be completed anytime before Season 3 concludes. Accomplishing these objectives offers a clear path toward unlocking tiers that contain specific items. Making the system weekly allows more players to take advantage of it.
There is currently no date or time for the release of the Season 3 Battle Pass, but, considering Season 2 is expected to end Feb. 21, that information should be made available very soon. We'll do our best to provide updates as they arrive.
Fortnite is available in early access on PS4, Xbox One and PC. While Save The World makes the Battle Pass grind easier, its rewards are more pertinent to Battle Royale.
What do you think of Fortnite Season 3 based on these stats? Which cosmetics are you most excited about? Tell us in the comments section!