Fortnite Battle Royale will soon be updated to introduce a Jetpack. The news spread after being posted via in-game messages Monday afternoon. We don't know much about how the Jetpack contributes to the action, but its official description suggests players will be able to "take the fight to all-new heights."
Because the Jetpack will be the first accessory of its kind on the Fortnite roster, there are lots of questions fans have been asking. If it's a Rare or Legendary item, how can something like this actually be fair on the battlefield? Will players be able to fire their weapons while using it? Will fuel be limited enough to the point where its use is very temporary? Having the higher ground is essential to victory in any shooter, so a Jetpack guarantees an unmistakable advantage against most other opponents who can't fly.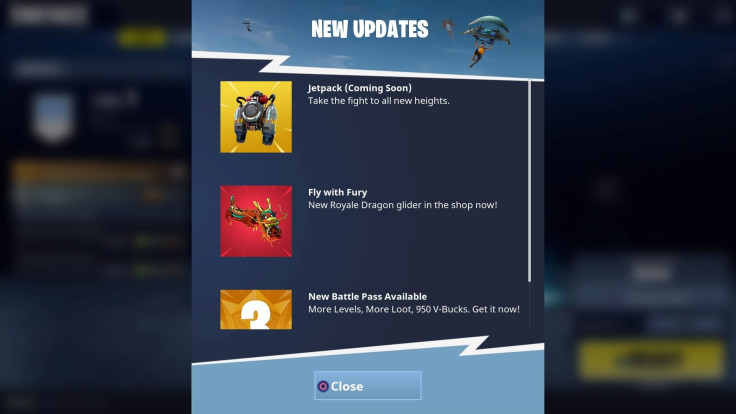 One thing the Jetpack will very quickly do is place greater emphasis on verticality in the current base-building meta. If combatants can now soar several screens above your head, you're going to want a tall base design that allows you to shoot those flying menaces out of the sky while also defending against them. Some hardcore Battle Royale players complained that recent building tweaks made the mechanic's skill ceiling a bit too low, but the future addition of a Jetpack may be one reason why Epic decided to make that feature a bit easier for everyone. Faster base building could be key to having a more balanced game in the days ahead.
While Epic Games has yet to provide release details about the Jetpack, we assume it'll debut in the 3.1.0 update later this week. Given recent delays and schedule adjustments, a tentative release date for that patch would be Feb. 28 or March 1. Full patch notes will likely be revealed shortly with the rarity stats and mechanical advantages the Jetpack offers. Since last week's 3.0.0 update was such a huge one, we imagine this week's tweaks won't be quite as extensive.
Fortnite is in early access across PS4, Xbox One and PC. The Jetpack is being advertised for Battle Royale right now, but some version of it will likely come to Save The World as well.
What would you like to see from Fortnite's Jetpack item? Will verticality make Battle Royale worse? Tell us in the comments section!