There you have it, Far Cry 6 has finally officially been revealed. After last week's rumors, and the confirmation by Ubisoft, everyone was expecting Ubisoft to show the next installment of the Far Cry franchise, and they weren't wrong. At the end of the Ubisoft Forward show, the company finally revealed the game with a cinematic trailer. You can watch the trailer below.
The above trailer was good and all, but it doesn't really tell much about the game. Ubisoft showed off another trailer that gave us a better look at the game's antagonist, Anton Castillo. Castillo is played by the amazing actor Giancarlo Esposito, famous for his role in Breaking Bad. He will play the role of a dictator whose ruthless actions have given rise to a resistance moment. The trailer also gives us some hints that his son, Diego, might be an important character in the game. Check out the world premiere trailer below.
The official description of the game reads as follows: (Courtesy of Ubisoft)
"Welcome to Yara, a tropical paradise frozen in time. As dictator of Yara, Anton Castillo is intent on restoring his nation back to its former glory by any means, with his son, Diego, dutifully at his side. Immerse in the adrenaline-filled, chaotic world of a modern-day guerrilla revolution and burn their regime to the ground."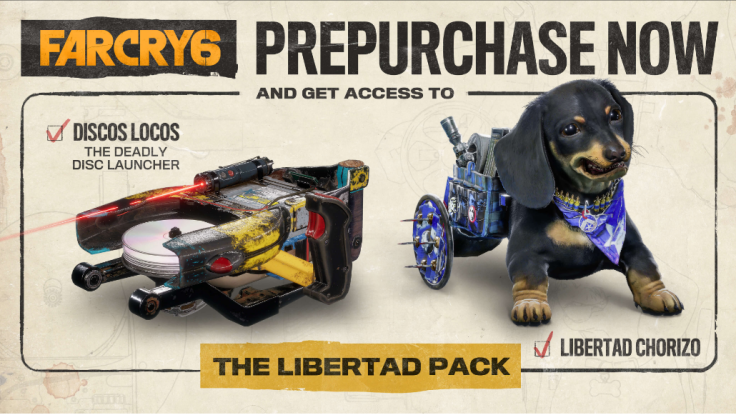 Far Cry 6 will launch on February 18, 2021 for PlayStation 5, PlayStation 4, PC, Xbox One, Xbox Series X, and Stadia. The game will be a part of Ubisoft's Uplay+ subscription service. If the above trailer was enough for you and you are dead set on buying the game, then you can pre-order it on either Uplay or the Epic Games Store. You will also get a pre-order bonus, which is the Libertad Pack. The pack includes a "Libertad Outfit" for your dog, named Chorizo, and a special weapon called "Discos Locos."
So what do you think? Are you excited about Far Cry 6? Have you pre-ordered the game yet? Let us know your thoughts in the comments section below.