Patch 2.4.3 for Diablo II: Resurrected will be launching tomorrow, and it is packed with various lobby updates for PC and consoles.
One of the many things the developers want to improve in Diablo II: Resurrected are multiplayer lobbies. In Patch 2.4.3, players will find a new search functionality in the PC lobby. This lets them type specific keywords to return a list of games based on the search term they've used. What's more, each game's connection quality is displayed in a pop-up tooltip shown when players hover the mouse over a specific game.
The game list on consoles is also improved. Aside from the fact that it now displays up to 40 matching games, there are also new filtering options. These options allow players to set parameters, such as difficulty, ping, and game name. This is helpful, especially when they want to restrict the search results to only display games of a particular connection quality or better, for example.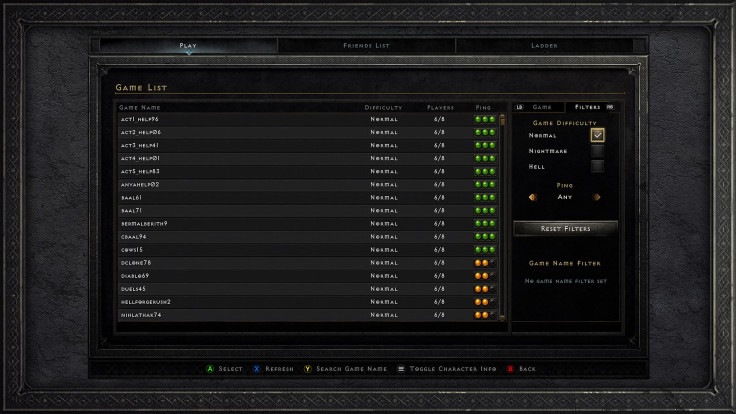 Patch 2.4.3 brings other quality-of-life improvements as well. Some of the highlights can be found below:
Gameplay
Players can now start a new Whirlwind, Leap, or Leap Attack immediately after a Whirlwind ends

Added a new "Loot to Cube" skill for controllers in the general skills menu. Using this skill on an item will pick it up and place it in your Horadric Cube if there is space

Added a bindable hotkey for the mouse and keyboard to directly open the Horadric Cube if it is in your inventory

Added a new button shortcut to open the Horadric Cube from the inventory menu

Players can now bulk assign stat points using a controller
Online
You can now double-click on a game to join it in the PC lobby

Players on Switch can now join a friend's game via the in-game Friends List

Game list details in both the details panel and in the Game List now load faster upon selecting a game
Bug Fixes
Gameplay

Fixed an issue where Deckard Cain was not able to identify items in the Horadric Cube. Now he will do so when the Cube is in your main inventory

Fixed an issue where resurrect costs were inconsistent for high-level mercenaries

Online

Fixed an issue where you couldn't select and join lobby games on PC with a controller

Fixed an issue where players could impersonate developers by mimicking the chat font color used to display system messages
Patch 2.4.3 is expected to go live tomorrow, June 29.
Diablo II: Resurrected is available on PS4, PS5, Xbox One, Xbox Series X/S, Nintendo Switch, and PC.