Dead Island 2 is a major title for April that we are looking forward to, which has been generating a lot of buzz in the gaming community. As the release date draws closer, gamers are yearning to learn more about its features and specifications. The developer released a technical FAQ blog that shows some details about the title including the system requirements for PC.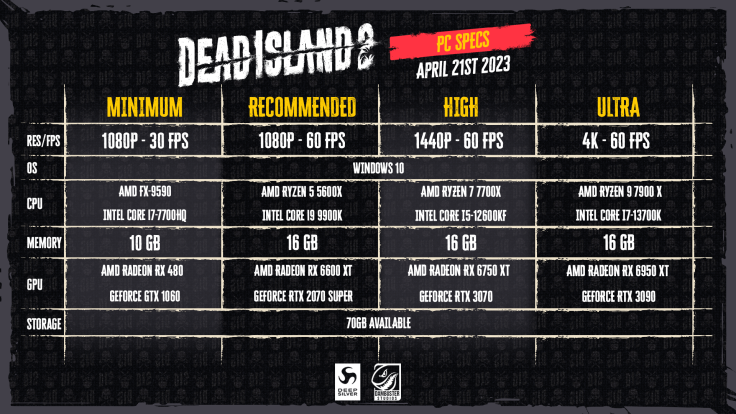 Multiplayer and Cross-Play
Dead Island 2 will have a co-op story mode that allows up to three players to play together. However, the game will not support cross-play between platforms. So, players on one platform cannot play with those on another, but there is something else that may interest console users.
Cross-Gen, Target FPS, and Input Support
Cross-play may not be supported but cross-gen is, meaning PS5 and PS4 players can play together, while Xbox One and Xbox Series X|S players together. Next-gen consoles will run the game at 60 FPS but older consoles are limited to 30.
Console players also won't be able to use a keyboard and mouse as these devices are only supported on PC. The PC version will also support a wide variety of controllers including those of Xbox Series X|S, Xbox One, Xbox 360, PS5, and PS4.
Language, HUD Customization, and Streamer Mode
Only the English language will be supported by Dead Island 2. However, subtitles, tooltips, options, and menu items will be available in 14 languages. Various HUD elements, including the player's health and status, compass, quest objective information, and more, will be customizable.
Dead Island 2 will feature a streamer mode that blocks licensed music. However, players should be cautious while launching the game as the Cinematic Title Sequence also has licensed music. Additionally, the streamer mode does not have a gore filter.
New Technology Support
Although Dead Island 2 does not support performance-boosting software, it does support AMD FidelityFX Super Resolution (FSR2) and AMD FidelityFX Contrast Adaptive Sharpening. There's no word if DLSS and XeSS are supported or not. You can read the official blog for more details.
So, what do you think? Are you interested in Dead Island 2? Have you played the first game yet? Let us know your thoughts in the comments section below.