The first major content update for Core Keeper is finally here. The Sunken Sea update introduces a lot of new things, including a new biome, titan boss, and portals, among many others.
This major content patch adds the new Sunken Sea biome in Core Keeper. To access this place, you must beat the first three bosses in the game, namely Glurch the Abominous Mass, Ghorm the Devourer, and the Hive Mother. After defeating them, you can now lower the mysterious wall that separates you and the new biome. Here, you will find the sub-biome called the Forlorn Metropolis and the new titan boss, Omoroth the Sea Titan.
Portals have also been introduced in the Sunken Sea update. Basically, you just place the portals down on any part of the map and you can teleport to them. Keep in mind that portals can only be used 20 minutes after placing them down. Hopefully, this gets reduced in a future patch.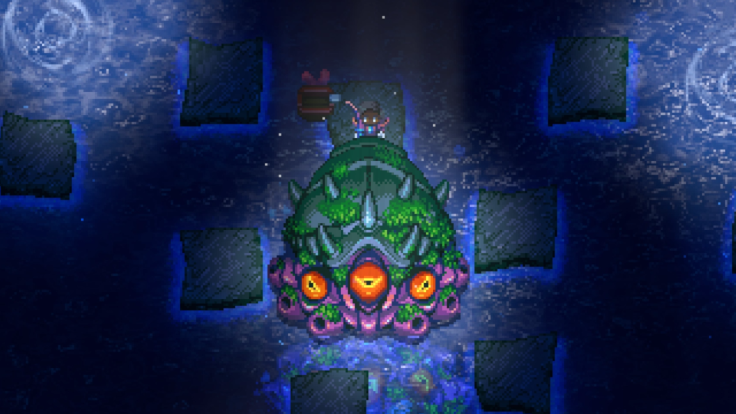 Highlights
NEW NPCs
Morpha the Aquatic Mass (side boss)

5 New enemies: Bubble Crab, Slippery Slime Blob, Tentacle, Caveling Scholar, Core Sentry

New Fishing Merchant found in Azeos' Wilderness

New mushroom-like enemy that spawns in the Dirt Biome and from Fungal Growth (Fungal Growth will only generate in worlds created after the update)
NEW MECHANICS
Octarine workbench with new tools, crafting, and base building options

Boats

New Jewelry workbench allows players to craft new jewelry

A Table Saw can be crafted at the Electronics Table that allows players to cut wood into planks

Added a Fishing Merchant Idol to Azeos' loot drops that allow the Fishing Merchant to move into the player's base

Sprinklers that can be crafted at the Automation Table

Vanity slots. A Dresser can be crafted at the Carpenter Bench in which players can change what equipment is visually shown on their character

Bait Workbench for crafting baits

Map markers that can be placed on the map

Players can now eat food, drink potions, place objects, and fight while in a minecart or a boat
NEW ITEMS
Octarine Ore

10 new weapons

7 new offhands

20 rings and necklaces

24 new armor pieces

20+ new decorative objects

3 new plants

2 new types of food

5 new fishes

New valuables

New legendary ranged weapon

Baits that can be held in the off-hand slot while fishing for different bonuses
Core Keeper Sunken Sea Update is available on PC.