Clash Royale's Gem Rush event is back again for a limited time. Find out what the Gem Rush is and why you should be in the arena right now.
Over the last year, Supercell has worked hard to keep players engaged in their hit game Clash Royale, by introducing new cards, events, challenges and more. After debuting their New 2v2 mode last fall, the devs soon discovered players were gravitating to the mode since it is a non-competitive team-based mode that doesn't add or take away trophies. In an effort to get players excited about 1v1 again, the company introduced several new 1v1 event types -- one of them being the Gem Rush.
Though we've only seen the Gem Rush event show up in Clash Royale a couple times, this weekend the event is finally back and for free-to-play players, it's an event you don't want to miss.
What Is Clash Royale Gem Rush?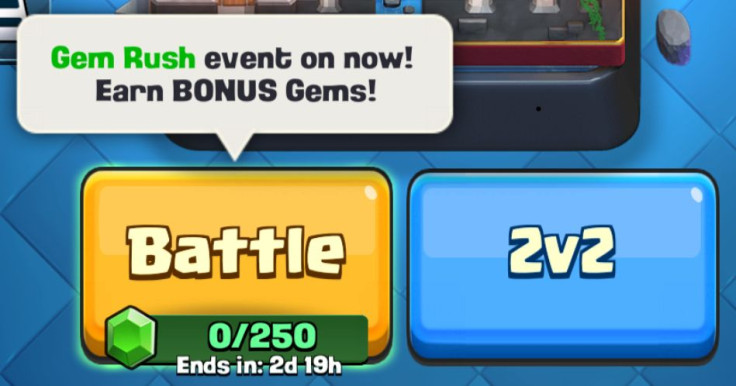 If it's your first time hearing about Clash Royale's gem rush, basically, it's exactly what it sounds like: an event that gives players the opportunity to earn a nice pile of gems -- 250 to be precise. So, how does Gem Rush work? Easy. Just open the Clash Royale game and start playing 2v2 battles. For every tower you destroy you'll earn gems. You don't have to win the match to earn the gems. You'll just be rewarded for taking down towers,. During each match you have the potential to earn up to 30 gems. You gain 5 gems for the first tower, 10 for the second and 15 for the third. While all players should find the Gem Rush a motivating event, it's an especially good one for new or free-to-play who know just how hard it is to accumulate gems in the game.
How Long Does Clash Royale's Gem Rush Event Last?
Clash Royale's three-day Gem Rush Event started Friday morning at 2:00 am ET and will end Monday morning at 2:00 am ET. Players can win up to 250 gems during the event, in addition to the normal chest and victory gold.
What Other Clash Royale Events Are Happening This Weekend?

In addition to the Gem Rush, clans also have a lot to play for this weekend. The Clan Chest event is live this weekend as well as a 1v1 Friendly Draft battle. If there was ever a weekend to be active in Clash Royale, this is one of them.
What do you think of the Clash Royale Gem Rush weekend event? What's your favorite event in the game? Share with us in the comments below.