Activision's decision to make post-launch content for Modern Warfare must be working. The developers are back with yet another massive update that breaths fresh air into the game. Lots of things have been added in Modern Warfare and Warzone, ranging from new maps and modes to campaign-inspired operators.
The new season will bring back a campaign character that was believed to be dead, Alex. Looks like we know which character everyone will be playing for the next two weeks. Three more maps are also added to the game.
Talsik Backlot, a remake of the iconic Backlot map.
A three-lane map Hovec Sawmill, suitable for 6v6 playlist
Aniyah Incursion, inspired by the Aniyah Palace and to be played in the 6v6 playlist.
Two brand new weapons are also joining the arsenal. The SKS Marksman Rifle is a semi-automatic carbine, and is joined by the semi-auto 9mm Renetti Handgun pistol. You can unlock the rifle after reaching Tier 31 on the Battle Pass, whereas the pistol is unlocked at Tier 15. You can also make your vehicle pretty with the new skins that are introduced with Season 3.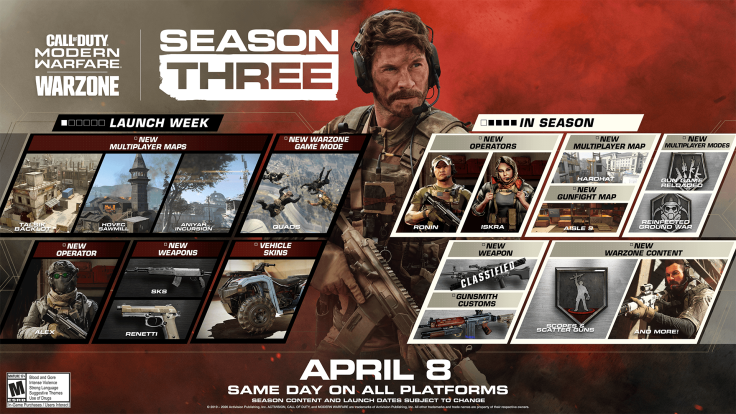 Warzone is getting a Quad Mode, so now at least that fourth player on the team won't feel left out. Quad Mode can be played in both Plunder and Battle Royale game modes. Looks like the encounters between teams are going to get much messier.
Additional content will be added in the game throughout the season via updates and patches. Two more maps will be introduced, Hardhat and Aisle 9. Hardhat is a fan-favorite map from Modern Warfare 3. I don't know how many times I have died in the massive cement pipe. One more weapon will come over time along with two brand new operators. The two operators are Ronin and Iskra.
Modern Warfare will also add more modes like Gun Game Reloaded and Reinfected Ground War. More information about the future content will be revealed as the season goes by, and of course, all of this will be free of cost unless you choose to buy the Battle Pass that will also give you tons more cosmetics.
So what do you think? Are you excited about the new Season? Have you bought the Battle Pass? Let us know your thoughts in the comments section below.