EA and DICE have released Update 3.3 for Battlefield 2042. It adds improvements to the game's scoreboard, and an exclusive bundle for those who have purchased the Gold Edition, Ultimate Edition, Year 1 Pass, and Year 1 Pass and Ultimate Pack on or before February 1, 2022.
Improved Scoreboard
One of the things that you'll notice when a match concludes is that the scoreboard now features a team vs. team split for certain team-based modes, including Conquest, Breakthrough, Rush, and Team Deathmatch. Deaths are recorded and placed on the scoreboard as well.
Aside from that, the match overview is improved, now situated on the left side of the screen. It still contains useful information, such as kills, assists, deaths, current in-game ping, objective progression, and ticket counters.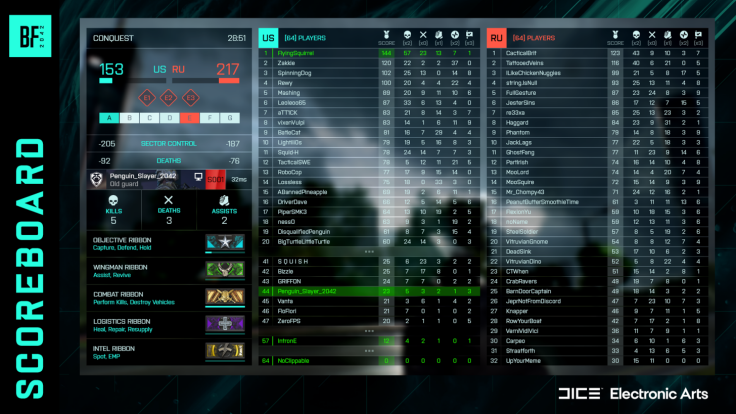 The improvements mentioned will likely satisfy most players as these are the things the community has been clamoring for since the game's release. The developers said that this is just the first version of the scoreboard and further improvements will be added in future updates.
It is also worth mentioning that the devs will introduce the VOIP functionality for Squads in early April.
Exclusive Bundle
As a thank you to loyal fans, the developers have included the Steadfast Exclusive Legendary Bundle in Update 3.3. The bundle contains the following:
Zero Resistance Skin for Mackay

Grasshopper Weapon Skin for the K30

Rapid Hammer Weapon Skin for the M44

Iron Chariot Vehicle Skin for the M5C Bolte

Rib Tickler Melee Weapon Skin

Resolute Player Card Background

The Steadfast Player Card Icon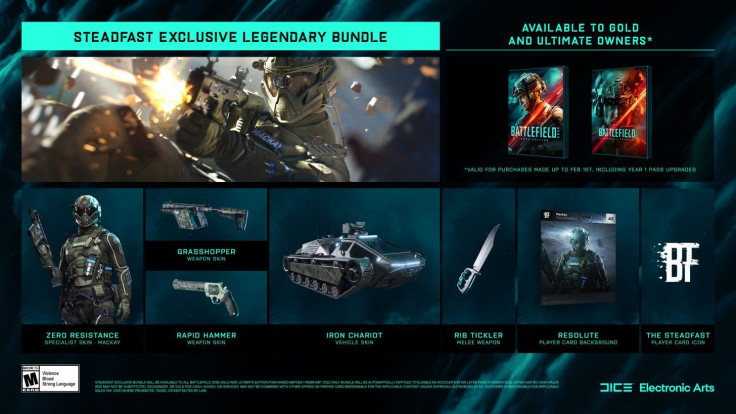 The items contained in the exclusive bundle can be found in the Collection and Playercard screens upon logging in.
Changelog
GENERAL
Fixed a game crash that could occur on Origin or Xbox One when signing in or out while using an Xbox One controller

Setting "Chat" Key Bindings no longer requires a game restart to take effect

Adjusted Aim Assist on consoles to ensure that the system is in effect when analog sticks are at 100% of their range. Previously it was only active at ranges below 100%

Fixed a bug where takedowns would not result in a kill on Xbox One and PlayStation 4

Established new location for our EU Data Center as Frankfurt
MODES
Conquest and Breakthrough: Fixed a bug where the Securing Objective XP-event was triggered even after a Capture Point was already fully captured

Hazard Zone: Fixed a visual bug displaying squad mates during the match found sequence

Hazard Zone: Fixed a bug where the End of Round XP gains sometimes didn't trigger
Battlefield 2042 Update 3.3 is available on PS4, PS5, Xbox One, Xbox Series X/S, and PC.