Ubisoft has filed a lawsuit against a group that provides denial-of-service (DOS) or distributed denial-of-service (DDOS) software. The Group is known as SNG.ONE and is made up of people from around the globe.
Software provided for DDOS attacks have mainly been used on Rainbow Six Siege servers. DDOS attacks have been an issue for Siege for some time now, especially on consoles. Such attacks flood the targeted server to overload it. This forces other players to quit the match because of lag spikes. Cheaters use it when they are losing so that their match doesn't count as a loss.
After the launch of Operation Ember Rise expansion pack for Siege, attacks have become much more frequent. To prevent these attacks Ubisoft adopted a plan which includes massive ban waves, technical crackdowns and legal action. After the initial waves of the plan, attacks have been reduced by a whopping 93 percent. Now Ubisoft wants to fix the problem at its source.
According to Polygon, The suit is filed in the Central District of California. It includes 14 people as defendants, 10 of which remain unnamed. Two of the defendants are from Germany, one is from the Netherlands and another is from Nigeria. Ubisoft has claimed that SNG.ONE provides subscription type services which include $30 per month or lifetime access to the server for $299.35. Several other games like Call of Duty: Modern Warfare, Fortnite, and FIFA 20 have also been potential targets.
"Defendants are well aware of the harm that the DDoS Services and DDoS Attacks cause to Ubisoft. Indeed, Defendants have gone out of their way to taunt and attempt to embarrass Ubisoft for the damage its services have caused to R6S," Ubisoft said in a statement. "For example, a Twitter account operated by one or more of Defendants has repeatedly mocked Ubisoft's security efforts, including Ubisoft's efforts to ban individuals utilizing Defendants' DDoS Services."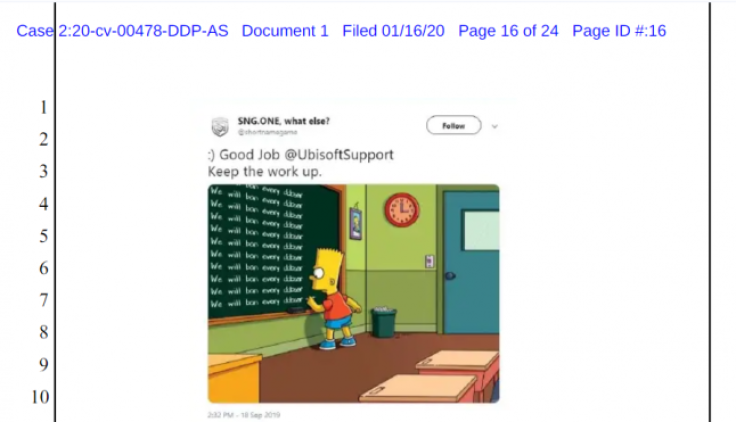 Ubisoft says that they are entitled to "all unlawful proceeds" from the illegal business, all attorneys' and investigatory fees, and "exemplary and punitive damage".