The roots of Sims 4: Laundry Day trace back to 2012. Sims producer Graham Nardone was still working on The Sims 3. As his team finished up Island Paradise, they wondered whether it would be the last expansion pack before shifting to The Sims 4. Crowdfunding for games was taking off at the time and Nardone had started thinking about what a more open development process could mean in the context of The Sims.
"It never came to light. We moved over to Sims 4," Nardone told Player.One. "That idea got shelved for a bit, but then in December 2016 at our Maxis holiday party, I was speaking with our Executive Producer Lyndsay Pearson. She brought the idea up again. What if we did build the pack along with the community and invited them to have influence in the decisions we made? Stuff packs were a natural fit."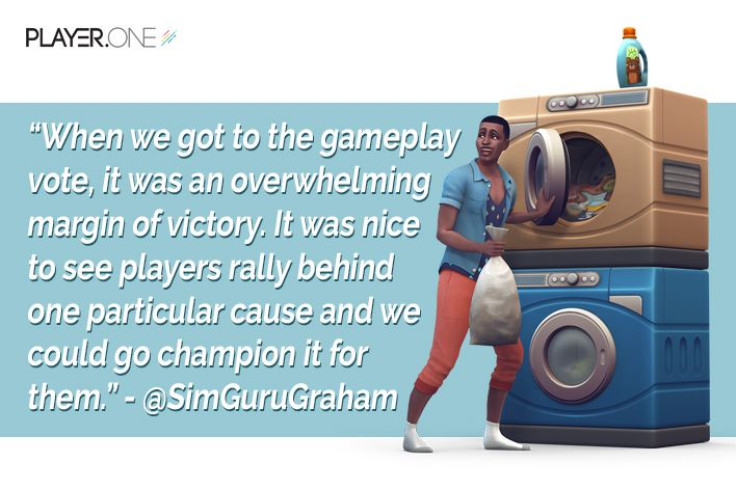 Nardone, as well as other producers (known as "SimGurus" in the online community) often reach out to players on forums and Twitter for feedback they can incorporate into the game, but the fan-made stuff pack takes this communication a step further. There's a different level of understanding from the business side of making games, to the creative side, and then the players who actually experience the products.
"I always think there is this disconnect between developers and players where a lot of rhetoric gets thrown around. We talk past each other many times because of different terminology," he said. "So many studios have been great about opening their doors and giving their fan bases insight and I'd love to see more of that continue just to cut down on overall toxicity and help us all understand each other a little better."
The fan-made stuff pack did just that. A theme vote kicked off the year-long process in April 2017. Narrowing down the options based on what was feasible, the vote came between Eco Living, Arcade, Starter Home Stuff, Dangerous Stuff and Wedding Stuff. After Eco Living won, the theme slowly snowballed into Laundry Day.
"Going back to theme, it was home technology and green technology. Laundry was kind of wrapped up in that because we needed a cohesive idea that could bring it together rather than just being laundry," he said. "Originally, doing just laundry as a pack was a little bit of an oddity to us. But as we went through the process and people kept saying, 'Hey, no, we really really want laundry,' it became clear to us that was the right direction to go down in order to really satisfy what they are asking for."
The second vote, Art Style, was where the community obsession with laundry became evident. The first designs portrayed a more ultra-modern, smooth rounded surfaces with emphasis on sustainable living. The second was more country farm home with bohemian inspired items. Since laundry was nowhere specifically seen in the Art Style vote, or the following objects vote, the community became a united force behind laundry in the months prior to the features vote in June 2017. Between Off The Grid, Laundry, Food Preserve, and Carbon Conscious, the consensus was obvious.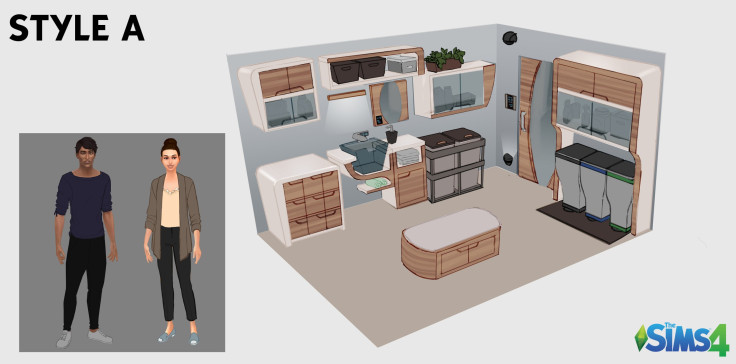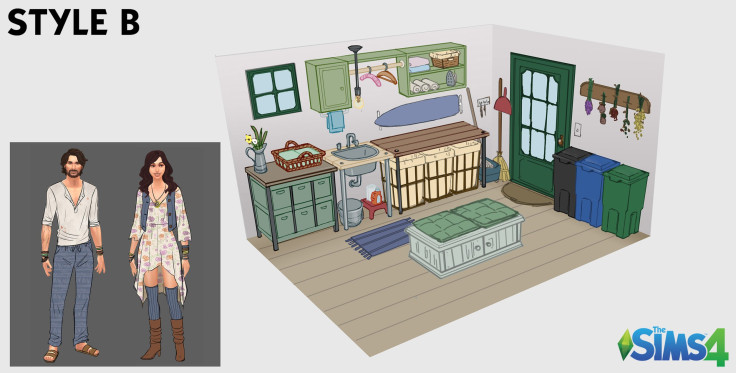 "Some of our votes came extremely close, but when we got to the gameplay vote where laundry was selected as the feature, that was an overwhelming margin of victory. It was nice to see players rally behind one particular cause and we could go champion it for them," he said.
The obsession with laundry among Sims players is intriguing, especially if you're not a longtime fan. Why would anyone want to spend their precious gaming session washing clothes? But Nardone thinks the answer is simple.
"I was excited that's what was selected because when I think about The Sims I think about creating things that are relatable to my own life. When I'm in build mode, I like to build places I'm familiar with. So if I go and build my childhood home, that would not be complete without a laundry room. I have to do laundry every week. For my Sims to have those same experiences, that's something I can relate to," he said. "At the end of the day, that's part of the magic of The Sims. It has this broad appeal to players around world because we offer broad aspect of life."
It's tough as creators and developers to find a balance between fan service and original idea, especially with active and vocal communities like The Sims. In a room of collaborators, there will always be a diversity of opinion about how to combine the history of the game, brand new content, and player desires. Nardone attributes success to finding the right balance. Packs like Kids Room Stuff, Toddlers Stuff and Laundry Day all focus in one one aspect of the game to target and improve. While washing machines and dryers were familiar, the monster battle station and puppet theater in Kids Room were both things that had never been done in The Sims before.
"That's when you see people get an offering in a pack that increases the value in the game," Nardone said. "In that aspect, one that stood out was Dangerous Stuff. That one could have gone a few directions. That could have led to things like new gameplay or interactions with the Grim Reaper, potentially having things like funerals, which we've never had in the series before, or maybe adrenaline junkie lifestyles and introducing radical new deaths because those are always popular with players. That would have been a fun way to flex our creative muscles. It didn't end up winning, but it did better than we were expecting initially."
Next time around, Nardone wants to do a better job of explaining to players the theme that's selected isn't necessarily what the final pack is going to be like. It's just a starting point to build from. Reflecting, he isn't confident the voting methods were authentic to the true development process.
"Because we experimented a lot along the way, a lot of this was put together in a few months and we just went out there and did it. I think what a lot of players expected was a 'Choose Your Own Stuff Pack,' but to us this was 'Build A Stuff Pack Along With Maxis.' I don't know at the end of the day looking back that came across as strongly," he said.
The brainstorming and development aren't as rigid as they were constructed for voting purposes. Behind closed doors, the creating process is usually more fluid, dynamic and subject to change.
"Internally, when we build a pack we are not sitting there and branding each theme and writing a nice description to summarize it. That's just something that happens in passing conversation," he said. "With Eco Living, or Wedding or Dangerous, what ended up happening was players took those ideas and put a box around them and it feels like you can't escape from that."
Nardone would have liked to set more time aside to formulate how to show things to the community in an authentic way, addressing questions like how gameplay features are actually narrowed down and selected, as well was how The Sims team fits a project into a development schedule. While there are no specific plans, Nardone says the lessons learned by both the development team and the players will positively impact the future of the franchise.
"If we do want to do another project like this in future or take individual aspects of this project and apply to a piece of large pack, we know so much more about how they will react to something like this and what positive things we can the community can get out of that, it's just great for us in the future having that knowledge stored and understood," he said.
All in all, Sims 4: Laundry Day was a huge success. Participation "far exceeded" what EA expected and it was one of the most well-received stuff packs of the last year.
"It's part of the franchise's history and they had a hand in that and I think that's a really cool and special thing," he said.
What did you think of Laundry Day? Let us know in the comments.
The Sims 4: Laundry Day Stuff
The DLC Literally Everyone Wanted
While laundry in real-life is a rudimentary activity, it's always been weirdly enjoyable through the history of The Sims and this version is no different.
Washing clothes is finally here
Engaging moodlets
Limited laundry animations