Some really good things are introduced in Rust's latest update. There is a new fully procedural military base that houses the MLRS, which you can utilize to destroy established bases and whatnot. A search option is now available at the marketplace to help you find things you need quickly.
Desert Military Base and the MLRS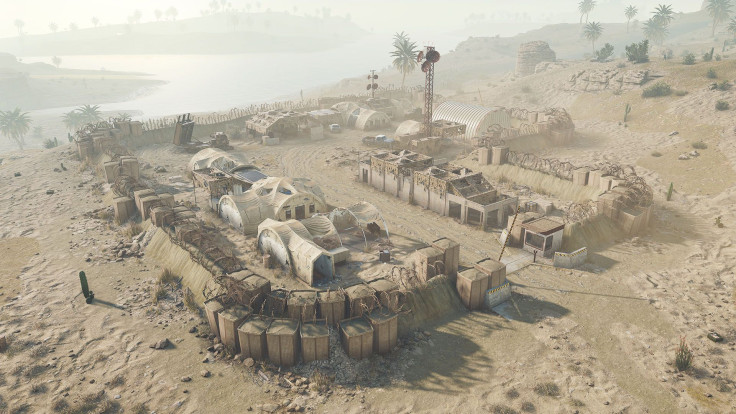 The new military base can be built from a pool of individual modules and four different templates. But what's more important here is the new MLRS or Multiple Launch Rocket System. It is carried by a vehicle and although it doesn't move, it can fire multiple rockets at a specified target at your command.
The rockets that can be deployed by the MLRS can do a lot of damage to bases, but keep in mind that SAM (Surface-to-Air Missiles) sites can counter them. Two or three SAM sites will be enough to erase the rockets from existence.
To use the new system, you must first acquire an MLRS Aiming Module, which can be found in hackable crates. You will also need some rockets found in the APC or in crates in Attack Helicopters.
If you have the required items, you can then search for an MLRS and interact with it. After inserting the module and rockets, you can interact with the targeting screen where you are given the power to select your preferred target. Once everything is set, all rockets will be launched and you can see your chosen target blow up to bits.
Update Highlights
FEATURES
Added MLRS

Adding 4 desert military base monuments

Added MLRS Ammo

Added MLRS Targeting module item
IMPROVEMENTS
Undo Redo support for painting

Search option when browsing shops at marketplace

Can now loot items in campervan storage while it's on a lift

Can now use hand gestures while crouching (doesn't apply to dances)
FIXED
Fixed "Too close to monument" errors appearing when other placement problems were to blame

Diving mask UI is now lit better while underwater in daytime

Fixed screen overlays (Diving goggles, heavy plate helmet) being affected by UI scale

Fixed multiple rock terrain gaps

Fixed various TC stacking methods

Fixed a small gap in the armored door double's hatch

Fixed armored door inconsistent hatch LODs behavior

Fixed bonkers AO map on wooden doors gibs

Blocked double jump through gas station extension ceiling

Fixed Player IO ent button LODs kicking in way too soon
It is worth noting that there will be a Blueprint wipe on all servers on December 2 in preparation for the next major update.
Rust November 5 Update is now available on Playstation 4, Xbox One, and PC.