Rocket League announced that its Blueprint Update will be released on December 4 at 1:00 PM EST. Once the update rolls in, crates are going to out and Blueprints are going to be in. In addition, any Keys players already own are going to be converted to Credits. So what else can you expect with this upcoming update?
Once the update goes live, Blueprints are going to drop after selected Online Matches. These new drops are going to show a specific item that can then be built using Credits. Players have the option to build the item, trade the Blueprint to a friend, or just keep the blueprint in their inventory.
Any unopened Crates in the inventory are going to be converted to Blueprints of the same series once the update arrives. These can then be revealed at no cost. Both revealed and unrevealed Blueprints can be found in the new Blueprints tab in the inventory.
Meanwhile, Keys are going to be converted automatically to the new in-game currency called Credits. Credits can be used for a lot of things like building Blueprints, buying items from the Item Shop, or upgrading to Rocket Pass Premium. Each Key can be converted to 100 Credits.
Rocket League revealed that since there's going to be a major conversion of items, Crates are going to stop dropping and all purchases in the game are going to be disabled for 25 hours leading up to the update. Thus, player's won't be able to purchase Keys and DLC Packs, along with player-to-player trades and trade-ins, starting on December 3 at 12:00 PM EST. Players also won't be able to interact with any Crates that they own. However, all Rocket League online playlists are going to be still be up and running.
That said, let's take a look at trade-ins, which involves trading five items for one item of a higher rarity. Once the update rolls in, trade-ins for items received from Crates are not going to be possible. Players only have until December 3 to trade any duplicate Crate items they have. Don't worry, though, as free post-game drops are still available for trade-in after the update.
With all of these new items arriving, the update is going to give players the ability to archive their items. Archived items are going to be kept in the new Archive tab in the inventory.
Double XP Weekend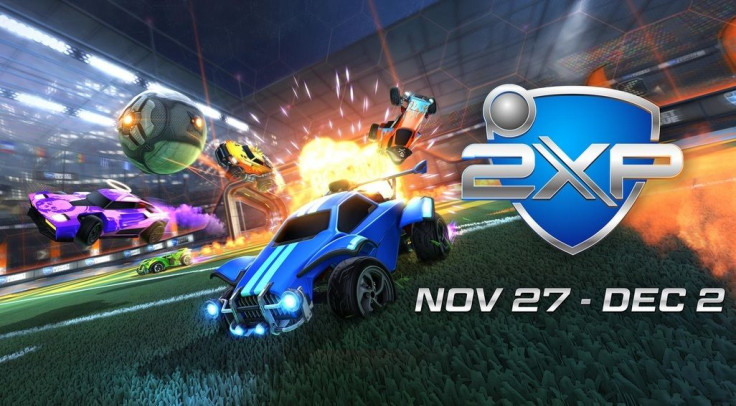 The Blueprint Update is also going to set the stage for Rocket Pass 5, which starts the same day as the update. To close out Rocket Pass 4, Rocket League is launching a 2XP Weekend starting this Wednesday November 27 at 5:00 PM EST. This is your chance to earn that extra XP to tier up and get some extra Pro Tier Rewards before Rocket Pass 4 ends on December 3.